Epic Rivalry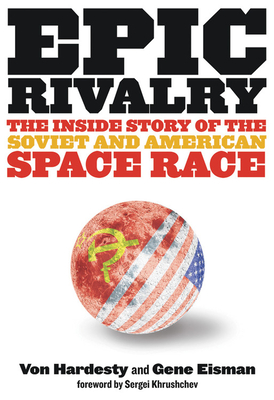 Epic Rivalry
The Inside Story of the Soviet and American Space Race
National Geographic Society, Hardcover, 9781426201196, 275pp.
Publication Date: September 18, 2007
* Individual store prices may vary.
Buy at Local Store
Enter your zip code below to purchase from an indie close to you.
or
Buy Here
Description
When Neil Armstrong and Buzz Aldrin walked on the moon in 1969, they personified an almost unimaginable featthe incredibly complex task of sending humans safely to another celestial body. This extraordinary odyssey, which grew from the rivalry between the United States and the Soviet Union during the Cold War, was galvanized by the Sputnik launch in 1957. To mark the fiftieth anniversary of Sputnik, National Geographic recaptures this gripping moment in the human experience with a lively and compelling new account. Written by Smithsonian curator Von Hardesty and researcher Gene Eisman, Epic Rivalry tells the story from both the American and the Russian points of view, and shows how each space-faring nation played a vital role in stimulating the work of the other. Scores of rare, unpublished, and powerful photographs recall the urgency and technical creativity of both nations' efforts.

The authors recreate in vivid detail the "parallel universes" of the two space exploration programs, with visionaries Wernher von Braun and Sergei Korolev and political leaders John F. Kennedy and Nikita Khrushchev at the epicenters. The conflict between countries, and the tense drama of their independent progress, unfolds in vivid prose. Approaching its subject from a uniquely balanced perspective, this important new narrative chronicles the epic race to the moon and back as it has never been told beforeand captures the interest of casual browsers and science, space, and history enthusiasts alike.
About the Author
Von Hardesty, a former curator at the Smithsonian National Air and Space Museum, has written widely on aerospace history, including a biography of Charles Lindbergh, numerous titles on Russian aeronautics, a history of the space race, and baseline research on aerial reconnaissance in World War I.



Sergei Khrushchev is Senior Fellow at the Thomas Watson Jr. Institute for International Studies at Brown University. He is the author of Nikita Khrushchev and Creation of a Superpower (Penn State, 2000).
Praise For Epic Rivalry…
"Epic Rivalry is history at its best, a fascinating story deeply researched and well told."
—David Maraniss, author of They Marched Into Sunlight: War and Peace, Vietnam and America, October 1967

"Epic Rivalry is a stunning new book on the space race. Erudite yet entertaining, it clearly analyzes the events leading to the first lunar landing, as seen through American and Soviet eyes. It makes fascinating reading today and merits a spot on the bookshelf as a valuable reference."
—Michael Collins, Apollo 11 command-module pilotand author of Carrying the Fire: An Astronaut's Journeys

"Beautifully written and highly informative, Epic Rivalry is an exceptionally engaging look back at one of the most compelling episodes of the Cold War—the space race. Hardesty and Eisman make use of the trove of new information available in recent years to recreate the sense of wonder, excitement, and urgency that drove men and women on both sides of the Iron Curtain to make a reach for the new frontier of space. By successfully weaving the technical with the human, they have given readers a fresh view of one of humanity's greatest adventures."
—Asif Siddiqi, author of Challenge to Apollo: The Soviet Union and the Space Race, 1945-1974