Freedom in My Heart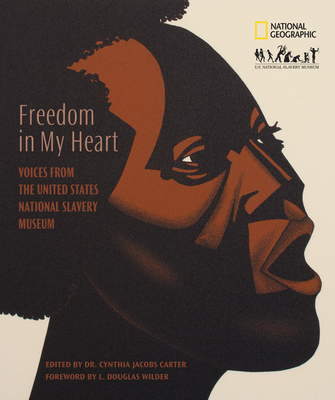 Freedom in My Heart
Voices from the United States National Slavery Museum
National Geographic Society, Hardcover, 9781426201271, 225pp.
Publication Date: January 6, 2009
* Individual store prices may vary.
Buy at Local Store
Enter your zip code below to purchase from an indie close to you.
or
Not Currently Available for Direct Purchase
Description
Unlike any other book on the market today, this richly illustrated companion volume uses the remarkable artifacts, images, and documents of the United States National Slavery Museum to trace the entire history of slavery in North America, from the societies of ancient Africa to the repercussions still faced by Americans today—and to celebrate the perseverance and ultimate triumph of a people. Freedom in My Heart goes beyond the textbooks to call forth the unique voices, personal stories, and cultural contributions of slaves and their descendants, demonstrating how enslaved African Americans remained free at heart to develop a vibrant culture in the face of unspeakable inhumanity. Following a foreword by L. Douglas Wilder, the grandson of former slaves and the first African-American elected governor of a U.S. state, ten compelling chapters offer the often unheard testimony of those who witnessed slavery and those whose ancestors endured it. Their voices blend with the contributions of such luminaries as South African leader Nelson Mandela, Liberian President Ellen Johnson Sirleaf, noted journalist Juan Williams, entertainers Bill Cosby and Ben Vereen, and many more. This partnership with the National Slavery Museum grants exclusive access to never-before-seen images, personal letters, and artifacts, which shed new light on slavery and the activities surrounding it. As the museum nears its opening, numerous press events and online features will publicize the book, giving unprecedented exposure at a time of great anticipation and interest.
About the Author
CYNTHIA JACOBS CARTER, ED.E., holds a doctorate from the George Washington University and is director of development for Howard University. She has designed and taught more than a dozen courses on such topics as Black Women in the African Diaspora, The Talented Tenth, and the Gullah Culture. Her exhibit, "Africana Woman at the Dawn of the New Millennium," was sponsored by the Official White House Millennium Council and the George Washington University.

Lawrence Douglas Wilder (born January 17, 1931) served as the first African American to be elected as governor of Virginia. Wilder served as the 66th Governor of Virginia from 1990 to 1994. When earlier elected as Lieutenant Governor, he was the first African American elected to statewide office in Virginia. His most recent political office was Mayor of Richmond, Virginia, which he held from 2005 to 2009.