Book of Peoples of the World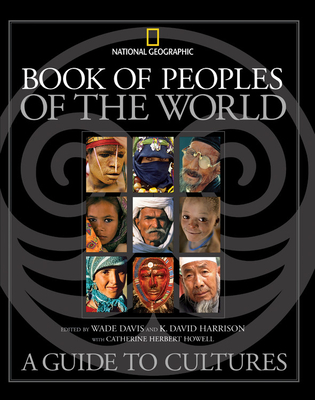 Book of Peoples of the World
A Guide to Cultures
National Geographic Society, Hardcover, 9781426202384, 383pp.
Publication Date: November 18, 2008
* Individual store prices may vary.
Shop Local
Enter your zip code below to find indies closest to you.
Description
As cultures and languages disappear from the Earth at a shocking rate, it becomes all the more urgent for us to know and value the world's many ethnic identities. National Geographic's "Book of Peoples of the World" propels that important quest with concern, authority, and respect. Created by a team of experts, this hands-on resource offers thorough coverage of more than 200 ethnic groups--some as obscure as the Kallawaya of the Peruvian Andes, numbering fewer than 1,000; others as widespread as the Bengalis of India, 172 million strong. We're swept along on a global tour of beliefs, traditions, and challenges, observing the remarkable diversity of human ways as well as the shared experiences. Spectacular photographs reveal how people define themselves and their worlds. Specially commissioned maps show how human beings have developed culture in response to environment. Thought-provoking text examines not only the societies and the regions that produced them, but also the notion of ethnicity itself--its immense impact on history, the effects of immigration on cultural identity, and the threats facing many groups today. Threading through the story are the extraordinary findings of the National Geographic Society's Genographic Project--a research initiative to catalog DNA from people around the world, decoding the great map of human migration embedded in our own genetic makeup.
At once a comprehensive reference, an appreciation of diversity, and a thoughtful look at our instinct to belong, this uplifting book explores what it means to be human and alive.
About the Author
K David Harrison is Assistant Professor of Linguistics, Swarthmore College. As a linguist and specialist in Siberian Turkic languages, he has spent many months in Siberia and Mongolia working with nomadic herders and studying their languages and traditions. He has also worked in India, Bolivia, the
Philippines, Lithuania, and the United States. His work on endangered languages is featured in the documentary film The Linguists and was featured on the Comedy Central series The Colbert Report.


Wade Davis is a Canadian anthropologist, author, and explorer who David Susuki called "A rare combination of scientist, scholar, poet and passionate defender of all of life's diversity." Wade Davis has written a new forward for "What the Buddha Never Taught", the 20th Anniversary Edition of the bestselling classic. Dr. Davis lives in Washington, D.C.