Descending the Dragon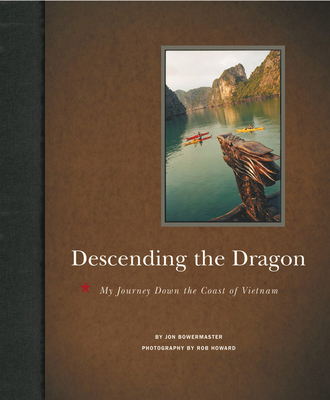 Descending the Dragon
My Journey Down the Coast of Vietnam
National Geographic Society, Paperback, 9781426203046, 144pp.
Publication Date: August 26, 2008
* Individual store prices may vary.
Buy at Local Store
Enter your zip code below to purchase from an indie close to you.
or
Buy Here
Description
Sometimes the longest journey begins with great patience. When Jon Bowermaster proposed an 800-mile kayak expedition along Vietnam's northern coastline, the country's government initially responded, "That will be quite impossible." Negotiation saved the day, and Jon Bowermaster and his team of fiveincluding a Vietnamese-American woman who had fled Saigon as a child on the final day of war in 1975completed an unprecedented voyage, seeing Vietnam and its people in a brand new light.
One-third of Vietnam's 80 million citizens live on or near the coastline, and Bowermaster met thousands of themrich and poor, fishermen and entrepreneurs, almost all beach dwellers who live and depend on the sea. For many, he was the first American they had ever encountered. In chapters flowing from north to south, Bowermaster's highly personal story and Rob Howard's compelling images bring to life Vietnam's vibrant edge.
The enigmatic nation is enjoying an upsurge today as a popular destination for both cultural and adventure travel: In the first six months of 2007, arrivals increased more than 14 percent over the same period last year, and the dynamic growth is projected to continue. This fascinating volume, offering a fresh perspective on the land and its people, will captivate real-life explorers and armchair travelers alike with its intriguing take on Vietnam from the sea.
About the Author
Jon Bowermaster writes about adventure, the environment, and exotic corners of the world for "National Geographic, The New York Times, Atlantic Monthly, Outside," and other major publications. His travels have taken him to seven continents. His adventures have resulted in eight books, three with renowned polar explorer Will Steger. Many of the expeditions have been made into documentary films as well.
Rob Howard, photographer, has taken pictures around the world for "Conde Nast Traveler" and many other publications.
Steven A. Smith, Microsoft ASP.NET MVP, is president and owner of ASPAlliance.com, LLC, the #1 ASP.NET developer community, which provides articles, forums, listservs, and sample code for ASP and ASP.NET developers. He is also the owner and head instructor for ASPSmith Ltd, a .NET-focused training company. Steve speaks at several conferences each year and has written articles for MSDN and AspNetPRO magazines in addition to his first book, ASP.NET By Example. Steve has a Master's degree in Business Administration and a Bachelor of Science degree in Computer Science Engineering. When he isn't working, Steve enjoys swimming, biking, and computer games. Steve lives in Ohio with his wife Michelle and daughter Ilyana. Steve can be reached at ssmith@aspalliance.com.
Rob Howard is a Program Manager on the Microsoft ASP.NET team. He is on the core infrastructure team and is responsible for features such as caching and session state. Rob is also the author of several books, including: "ASP.NET Developer's Cookbook," SAMS; "ASP.NET Professional 1.0," Wrox Press; and the upcoming Microsoft "ASP.NET Coding Strategies with the Microsoft ASP.NET Team," Microsoft Press. Rob is also a frequent presenter at developer conferences such as: Microsoft TechED, Microsoft PDC, and ASP.NET Connections. You can email him at rhoward@microsoft.com.