1000 Events That Shaped the World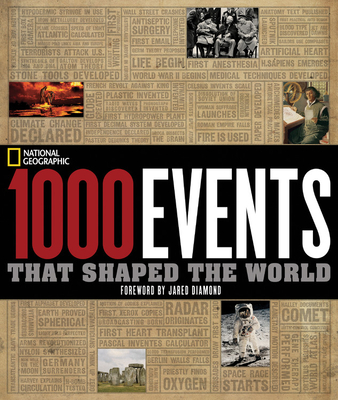 1000 Events That Shaped the World
National Geographic Society, Hardcover, 9781426203145, 415pp.
Publication Date: October 21, 2008
* Individual store prices may vary.
Not Currently Available for Direct Purchase
or
Shop Local
Enter your zip code below to purchase from an indie close to you.
Description
A fascinating sweep of global developments, this fact-filled book delivers what National Geographic has introduced into households for more than a century: The world and all that is in it. A thousand concise nuggets of text, each focused on one event and numbered chronologically, walk readers through time from the first evidence of life 3.8 billion years ago to a just-discovered planet beyond our solar system that could harbor life as we know it.

Accompanied by hundreds of illustrations and maps, the chosen events give insight into how and why our world has grown and changed. Did you know that the bow and arrow were developed nearly 5,000 years before pottery was made? (Events #16 and #19.) Or that Hamlet (#319) appeared at about the same time as Japan's Kabuki theater (#320) and the first newspapers (#322)? There's much more: Buddha's birth, the understanding of sight, Mercator's mapmaking, Tsar Alexander's freeing of serfs, the Battle of Gettysburg, the debut of toilet paper, D-Day, the first e-mail. A reader can open this book anywhere and find fascinating tidbits of history embellished with quick-read biographies, first-person accounts, and landmark paintings and photos. 1000 Events is sure to be a perennial backlist book, with its well-researched information appealing to readers of all ages. In the winning tradition of bestsellers Visual History of the World and Concise History of the World, this new volume presents facts in the easy-access format that people love.
About the Author
National Geographic is a renowned authority in cartographic excellence. For 119 years the Society's maps have helped spread geographic knowledge around the globe. A vast database allows National Geographic to combine the latest data gained by space-age technology with innovative digital mapping techniques to create state-of-the-art political, physical, and thematic maps. The Society's meticulous research and attention to detail have established a standard of achievement that is unparalleled.

Jared Diamond is a professor of geography at the University of California, Los Angeles. He began his scientific career in physiology and expanded into evolutionary biology and biogeography. Among his many awards are the National Medal of Science, the Tyler Prize for Environmental Achievement, Japan's Cosmos Prize, a MacArthur Foundation Fellowship, and the Lewis Thomas Prize honoring the Scientist as Poet, presented by The Rockefeller University. His previous books include "Why Is Sex Fun?", "The Third Chimpanzee", "Collapse", and "Guns, Germs, and Steel", winner of the Pulitzer Prize.