Dear First Lady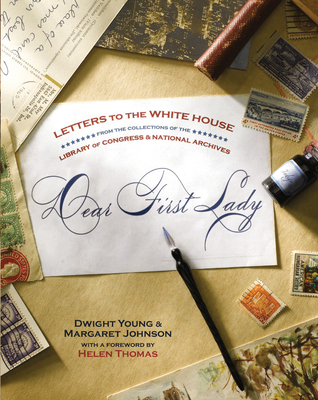 Dear First Lady
Letters to the White House
National Geographic Society, Paperback, 9781426204104, 208pp.
Publication Date: April 21, 2009
* Individual store prices may vary.
Buy at Local Store
Enter your zip code below to purchase from an indie close to you.
or
Not Currently Available for Direct Purchase
Description
Following on the success of their collaboration Dear Mr. President, Dwight Young and Margaret Johnson joined forces again to produce this charming collection of correspondence to and from First Ladies during their time in the White House. A wonderful gift book for any American, Dear First Lady reminds us that ours is a great government "of the people, by the people, and for the people," which entitles us to make our views known to our leaders. While some of these missives were written by the famous or the infamous, most are from ordinary Americans who wished to connect with their First Lady. Amusing, appealing, heartbreaking, and heartwarming, the letters appear as full-size facsimiles so readers can see for themselves the substance and style of these intriguing exchanges.

Richly illustrated with archival photography and images, Dear First Lady paints a fascinating portrait of American culture and a behind-the-scenes look inside the White House.
About the Author
Dwight Young has been actively involved in historic preservation for almost 30 years. He joined the staff of the National Trust in 1977, and moved to Trust headquarters in Washington in 1992. He is the author of "Alternatives to Sprawl," and "Saving America's Treasures." He is best known as author of the "Back Page" feature in "Preservation" magazine. In 2003, the National Trust published a collection of these essays titled "Road Trips through History."
Brian Williams became the anchor of NBC "Nightly News" in 2004, taking over for Tom Brokaw, the first such announced change in the major network news anchors in two decades. He was the "NBC News" Chief White House correspondent, and was the anchor and managing editor of the Saturday edition of "NBC Nightly News" for six years. Williams has been awarded three Emmys, and in over 20 years of broadcasting, he has reported from 23 countries on countless stories of national and international importance.

MARGARET JOHNSON is author of seven cookbooks Flavors of Ireland; The Irish Pub Cookbook; Irish Puddings, Tarts, Crumbles, and Fools; The Irish Spirit; The New Irish Table; The Irish Heritage Cookbook; and Tea & Crumpets. As a food and travel writer she has contributed to publications in both the U.S. and Ireland including Intermezzo Magazine, Cooking Light, Cara, the inflight magazine of Aer Lingus, Dublin's Food & Wine Magazine, Saveur, the Irish Echo newspaper, and irishabroad.com. She frequently appears at Irish food and cultural events, and when she's not visiting her ancestral home in Ireland, she lives in Westhampton Beach, NY, with her husband Carl.