Citizens of the Sea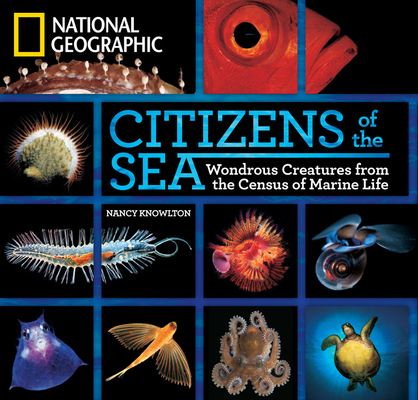 Citizens of the Sea
Wondrous Creatures from the Census of Marine Life
National Geographic Society, Hardcover, 9781426206436, 216pp.
Publication Date: September 14, 2010
* Individual store prices may vary.
Buy Now
or
Shop Local
Enter your zip code below to purchase from an indie close to you.
Description
The astonishing diversity of ocean life will wow you in thisriveting book, perfect for all ages, by marine scientist Nancy Knowlton. "Citizens of the Sea" reveals the most intriguing organisms in the ocean, captured in action by skilled underwater photographers from National Geographic and the Census of Marine Life.
As you read lively vignettes about sea creatures names, defenses, migration, mating habits, and more, you ll be amazed at wonders like . . .
. The almost inconceivable number of creatures in the marine world. From the bounty of microbes in one drop of seawater, we can calculate that there are more individuals in the oceans than stars in the universe.
. The sophisticated sensory abilities that help these animals survive. For many, the standard five senses are just not enough.
. The incredible distances that seabirds and other species cover. Some will feed in both Arctic and Antarctic waters within a single year.
. The odd relationships common in the marine world. From a dental hygienist for fish to a walrus's one-night stand, you ll find beauty, practicality, and plenty of eccentricity in sea-life socialization.
Brilliantly photographed and written in an easygoing style, "Citizens of the Sea" will inform and enchant you with close-up documentation of the fascinating facts of life in the ocean realm.
Praise For Citizens of the Sea…
"Citizens of the Sea is not a book to be read alone. It is packed with facts and photographs that are so cool, so bizarre, and so downright amazing that you'll want to make sure you have some willing company to share them with.[…] Although you may find yourself reading Citizens of the Seacover-to-cover regardless of your intentions, its gorgeous photos, one-page stories, and "fast fact" boxes also lend themselves to coffee table perusal. The book would be an excellent vehicle for inspiring older children to get excited about the ocean, but I would particularly recommend it for adults who want to rekindle their childlike wonder. Just don't read it alone!" —Joanna Solins, CORAL Communications Associate

"Citizens of the Sea: Wondrous Creatures from the Census of Marine Life by Nancy Knowlton is a new National Geographic production, and the perfect book for curling up with on a cloudy afternoon with a big pot of tea. The photos, of course, are mind blowing, and Nancy's accompanying text is bright, fun to read, and chock full of the "beauty, weirdness, and wonder of the sea."  Nancy is a serious scientist known for her work discovering new corals and figuring out new ways of classifying them. Increasingly, she has turned her attention to helping others understand the ocean's wonders — "as its citizens have no vote in any international body, but they need to be heard." This book is a unique combination of photos and substance." —Nancy Baron, Author of Escape from the Ivory Tower and Ocean Science Outreach Director for SeaWeb and COMPASS

"Citizens of the Sea," is a dazzling collection of photographs of undersea creatures, with commentary by Nancy Knowlton, a marine scientist at the Smithsonian National Museum of Natural History and a leader of the census effort. The book's goal is to introduce readers to the plants and animals that inhabit the marine world — from Antarctic ice to more than six miles down, near the bottom of the Marianas Trench, the deepest spot on the ocean floor. In its pages we encounter creatures both familiar and strange. Most will enjoy it as a journey through what remains a largely alien landscape filled with beautiful and often bizarre creatures." —Cornelia Dean, "Getting to Know Your Neighbors Below the Surface," The New York Times Science Section

The Census of Marine Life, a decade-long project encompassing more than 2,700 scientists across the world, sought to answer a basic but daunting question: What lives in the ocean? The census revealed thousands of new species. National Geographic's new book "Citizens of the Sea", captures many of them.—Washington Post

"Beautifully illustrated…an eye-opening introduction to the life in the sea that surrounds us."
 –Keysnews.com