The People's Pharmacy Quick & Handy Home Remedies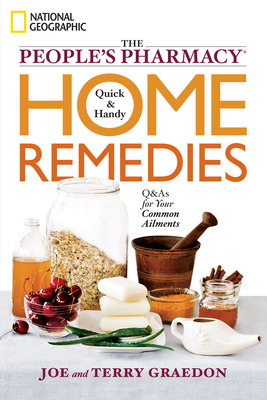 The People's Pharmacy Quick & Handy Home Remedies
Q&As for Your Common Ailments
National Geographic Society, Paperback, 9781426207112, 263pp.
Publication Date: May 17, 2011
* Individual store prices may vary.
Buy at Local Store
Enter your zip code below to purchase from an indie close to you.
or
Buy Here
Description
A guide to healing foods and home remedies reported to and verified by Joe and Terry Graedon, including their carefully researched responses on how and why such treatments work. The core of this title is organized as Q&As between the general public and the Graedons. It contains as much information as a voluminous encyclopedia of home remedies, yet it's quick, easy, inviting, and fun to read, with the same friendly and authoritative personality conveyed in their popular call-in radio show. The Graedons also offer a dozen new recipes for food so good for you, it serves as preventive medicine.
Organized alphabetically by ailment and then, within each of those, by food or remedy. Offers the basics of three standard diets for health, weight control, and fitness, along with a dozen new recipes for preparing food to match the diets. Includes a helpful index and cross-referencing system, making the book both a good shelf reference and an entertaining browse.
This book builds on the reputation of The People's Pharmacy and adds the extra value that comes from a partnership with National Geographic.
About the Author
Pharmacologist Joe Graedon, MS, and medical anthropologist Teresa Graedon, PhD, are authors of the syndicated newspaper column The People's Pharmacy, with a nationwide audience that exceeds 6 million readers. Their syndicated radio show of the same name is broadcast worldwide. Between them they have written numerous books, including the "New York Times" bestseller "The People's Pharmacy," In 2003 Joe and Terry received the Alvarez Award at the 63rd annual conference of the American Medical Writers Association for "excellence in medical communications." They also were the recipients of the America Talks Health "Health Headliner of 1998" award for "superior contribution to the advancement of medicine and public health education." They reside in North Carolina. To speak with the Graedons, or to learn more about The People's Pharmacy, visit their web site at www.peoplespharmacy.com.


Praise For The People's Pharmacy Quick & Handy Home Remedies…
People's Pharmacy:
"The Graedons offer evidence-based answers to questions about home remedies for common health problems." –Book News Inc.

"This is an excellent book that proves better health can be achieved by healing yourself at home with remedies right out of the cupboard, refrigerator, or garden." –Tucsoncitizen.com
 
"Very readable as well as entertaining, this is a great resource for those interested in home remedies for everyday woes." –Library Journal
 
"A compilation of reader feedback to remedies, plus a list of 24 foods the authors suggest can help with health problems such as high cholesterol, high blood pressure and high blood sugar. The foods list includes coffee, blueberries, green tea, beets and chocolate." –Richmond Times Dispatch
 
"In these times when so many lack medical insurance, an investment in this book might be a good idea." –Foodsiteoftheday.