The Science Book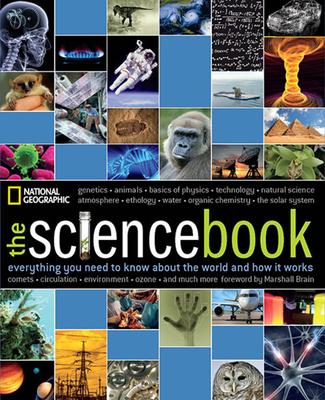 The Science Book
Everything You Need to Know about the World and How It Works
National Geographic Society, Paperback, 9781426208089, 431pp.
Publication Date: August 16, 2011
* Individual store prices may vary.
Buy at Local Store
Enter your zip code below to purchase from an indie close to you.
or
Buy Here
Description
"The Science Book: Everything You Need to Know About the World and How It Works" encapsulates centuries of scientific thought in one volume. Natural phenomena, revolutionary inventions, scientific facts, and the most up-to-date questions are all explained in detailed text that is complemented by visually arresting graphics.
Six major sections ranging from the universe and the planet Earth to biology, chemistry, physics, and mathematics are further broken down into subsections that encompass everything from microscopic life to nuclear power.
" The Science Book" covers a wide range of scientific areas, providing both a general overview of topics for the browsing reader, and more specific information for those who wish to obtain in-depth insight into a particular subject area. Natural phenomena, revolutionary inventions, scientific facts, and up-to-date questions are explained in detailed texts. The vivid illustrations, pictures, and graphics throughout the book make the information even more accessible and comprehensible.
Within the book, the theory of the universe and the character of the earth are detailed, along with an overview of the diverse living organisms that can be found on Earth. The technical developments and achievements of humankind are discussed and we pay particular attention to subjects of current interest, like climate change and genetic engineering.
The well-structured organization of this book with its numerous sections and chapters offers the reader an entertaining introduction into the large field of natural sciences and allows just as well for quick reference. Events and issues of special significance are discussed in greater detail in side bars of 3 different kinds. Numerous cross-references within the chapters and to other sections of the book emphasize the many links between the individual scientific fields. Illustrative elements, such as 3-D-graphics and pictograms and the great variety of photographic material make even the most complex information easy.
About the Author
National Geographic is a renowned authority in cartographic excellence. For 119 years the Society's maps have helped spread geographic knowledge around the globe. A vast database allows National Geographic to combine the latest data gained by space-age technology with innovative digital mapping techniques to create state-of-the-art political, physical, and thematic maps. The Society's meticulous research and attention to detail have established a standard of achievement that is unparalleled.

Marshall Brain (yes, that's his real name!) is the founder of HowStuffWorks, Inc. A published author with more than a dozen books to his name, including How Stuff Works and How Much Does the Earth Weigh?, Marshall began HowStuffWorks.com as a hobby-a way to learn more about the world and to share that knowledge with online readers. Today, the company has expanded to include video, television, radio, books, CDs, and magazines. Marshall lives in Raleigh, N.C., with his wife Leigh, sons David, John, and Ian, and daughter Irena.
Lee Dempsey is a graphic designer at HowStuffWorks, Inc. Lee studied technical illustration at the University of Central England and has worked in the design environment for 10 years. This is the second HowStuffWorks book featuring Lee's illustrations. In addition to his print work, Lee also creates graphics for the HowStuffWorks Web site. Born in Lancashire, England, Lee now lives in Chapel Hill, N.C.