The Untold Civil War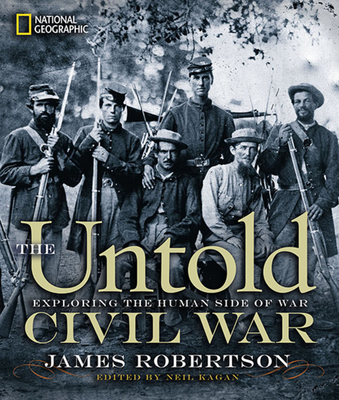 The Untold Civil War
Exploring the Human Side of War
National Geographic Society, Hardcover, 9781426208126, 352pp.
Publication Date: October 18, 2011
* Individual store prices may vary.
Buy at Local Store
Enter your zip code below to purchase from an indie close to you.
or
Buy Here
Description
Was Gettysburg a tactical success, or was the outcome determined by a far more mundane factor: access to fresh water? How did the need to spread information about the dead and wounded give rise to the U.S. Postal Service? Did President Lincoln really age so dramatically during the course of the war, or was a rare disease to blame for the shocking difference in images of him from before and during the war? From overlooked elements, such as the role of weather, health, and high emotions, to the world-changing effect of the rise of female workers, to the many "firsts" including the introduction of standard time, pre-sized clothing, canned goods, toilets, and Santa Claus, The Untold Civil War reveals new facets of a seemingly well-known slice of American history, just in time to commemorate its 150th anniversary.
 
Dramatically illustrated with archival images and objects and compelling contemporary photography, this book delivers a surprise on every page: from precious personal mementos to forgotten battle sites; from newly recovered glass-plate negatives that reveal long-obscured photographic details to long-lost documents; this book adds a new dimension to our understanding of the Civil War and is a must-have for anyone with an interest in American history.
 
Six thematic chapters—such as "Characters," "Connections," and "A War of Firsts"—present a short introductory essay followed by approximately 30 self-contained stories that detail surprising, little-known, and fresh aspects of the war. Themes both large and small will be explored and contextualized, painting a fascinating portrait of our national character and showcasing the enduring impact of the Civil War.
Praise For The Untold Civil War…
"The book … is a beauty and should make any recipient very happy. Although large, it isn't one of those cumbersome coffee-table books but rather the right size to properly display a great selection of photographs." --The Washington Post

"Beautifully illustrated and engagingly written, this thematically arranged book reveals the human side of America's bloodiest war." –Library Journal