Life in Color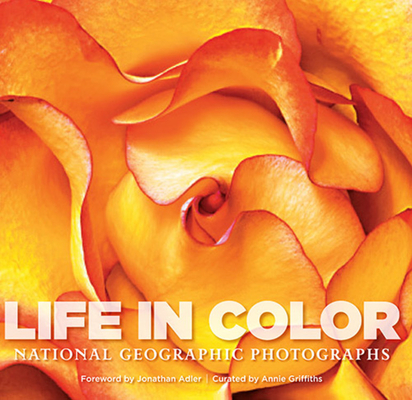 Life in Color
National Geographic Photographs
National Geographic Society, Hardcover, 9781426209628, 503pp.
Publication Date: October 2, 2012
* Individual store prices may vary.
Buy Now
or
Shop Local
Enter your zip code below to purchase from an indie close to you.
Description
"The world is a wonder of color. Remarkable images by National Geographic photographers entice us to take notice in a whole new way." --House Beautiful

Life in Color is arranged by color in a rainbow of beauty. Each chapter, devoted to a color, begins with a short, inspiring essay that explores the qualities, meaning, and symbolism of that color, written in the same warm and lovely voice that guided the reader through Visions of Earth. Color chapters include photographs that are predominantly blue, orange, green, yellow, purple and red. Smaller sections present images in silver, brown, black, gold, white, and "unseen color"--not seen with the naked eye, such as laser, the universe, and microscopic images. Throughout, interesting quotes and surprising short insights in the captions give the reader an entirely new look at the color in the world around us. Chock full of beautiful, amazing, fun images, this eye-pleasing volume is sure to appeal to a wide variety of people, most especially to women.
About the Author
Susan Tyler Hitchcock's last book was "Mad Mary Lamb: Lunacy and Murder in Literary London". Married with two children, she lives near Charlottesville, Virginia.


Praise For Life in Color…
"The world is a wonder of color. Remarkable images by National Geographic photographers entice us to take notice in a whole new way." --House Beautiful

"...these prismatic, brilliantly composed photographs are exuberant works of inquiry and art, adding up to a book of awe and inspirationthese prismatic, brilliantly composed."  --Booklist

"An exceptional picture-book... a chance to revel in colour and appreciate the kaleidoscope constantly around us." --Daily Mail

"Sumptuous ...Anyone who likes colour, photography, travel, adventure or humanity in general (so that's everyone then) would enjoy Life in Colour and I know I'd be happy to find it under the tree!." --Outdoor Photography Magazine

"This is a book to be savored slowly, often and in small doses for maximal enjoyment." --Entertainment Today

"This book is a fabulous example of the very best from National Geographic... Highly Recommended!" --Hot Brands, Cool Places

"There seem to be two main concepts behind [this book]: 1.) There's a lot of color in the world. 2.) Nat Geo has great photographers." —Science Friday SciArt blog