Cronkite's War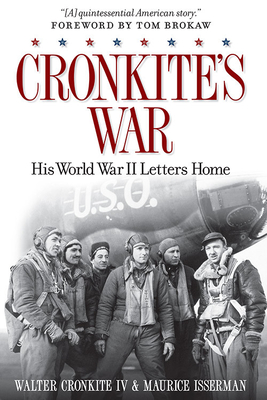 Cronkite's War
His World War II Letters Home
National Geographic Society, Hardcover, 9781426210198, 318pp.
Publication Date: May 7, 2013
* Individual store prices may vary.
Buy at Local Store
Enter your zip code below to purchase from an indie close to you.
or
Buy Here
Description
A giant in American journalism in the vanguard of "The Greatest Generation" reveals his World War II experiences in this National Geographic book. Walter Cronkite, an obscure 23-year-old United Press wire service reporter, married Betsy Maxwell on March 30, 1940, following a four-year courtship. She proved to be the love of his life, and their marriage lasted happily until her death in 2005. But before Walter and Betsy Cronkite celebrated their second anniversary, he became a credentialed war correspondent, preparing to leave her behind to go overseas. The couple spent months apart in the summer and fall of 1942, as Cronkite sailed on convoys to England and North Africa across the submarine-infested waters of the North Atlantic. After a brief December leave in New York City spent with his young wife, Cronkite left again on assignment for England. This time, the two would not be reunited until the end of the war in Europe. Cronkite would console himself during their absence by writing her long, detailed letters -- sometimes five in a week -- describing his experiences as a war correspondent, his observations of life in wartime Europe, and his longing for her.
Betsy Cronkite carefully saved the letters, copying many to circulate among family and friends. More than a hundred of Cronkite's letters from 1943-45 (plus a few earlier letters) survive. They reveal surprising and little known facts about this storied public figure in the vanguard of "The Greatest Generation" and a giant in American journalism, and about his World War II experiences. They chronicle both a great love story and a great war story, as told by the reporter who would go on to become anchorman for the CBS Evening News, with a reputation as "the most trusted man in America."
Illustrated with heartwarming photos of Walter and Betsy Cronkite during the war from the family collection, the book is edited by Cronkite's grandson, CBS associate producer Walter Cronkite IV, and esteemed historian Maurice Isserman, thePublius Virgilius Rogers Professor of History at Hamilton College.
Now this historical portrait is new in paperback.
About the Author
Gary Haynes joined United Press International as a photographer in Detroit in 1958. By 1969 he was UPI's assistant managing editor of photography in New York, and later that year was made a national picture editor for The New York Times. From inside UPI, as a shooter and a manager, Haynes saw nearly every UPI picture to move on the network for close to eleven years.
Walter Cronkite was a correspondent for UPI during World War II and then served as an evening news anchor on CBS for nearly 20 years, during which he became known as "the most trusted man in America."


Maurice Isserman is the coauthor of Fallen Giants, a prize-winning history of Himalayan mountaineering. He is a professor of history at Hamilton College and lives in Clinton, New York.

The New York Times is regarded as the world's preeminent newspaper. Its news coverage is known for its exceptional depth and breadth, with reporting bureaus throughout the United States and in 26 foreign countries. Winner of 106 Pulitzer Prizes, The Times has the largest circulation of any seven-day newspaper in the U.S.
Praise For Cronkite's War…
"Fascinating glimpses of a stirring time that was a crucible for so many journalists." –School Library Journal starred review

"What a treasure! If you like the news, if you like a good adventure story or if you're just a sucker for a good old fashioned love story, you will love this book." —Bob Schieffer, CBS News

"The immediacy of these letters provides an unforgettable glimpse into how people lived during the most devastating war in human history, and shed light on how Walter Cronkite became one of our greatest newsmen." —Susan Eisenhower

"An extraordinary journey with the most trusted man in America." —Kirkus Reviews

"There's no question that Cronkite's book represents a bygone era of journalism." --The Washingtonian 
 
 "A fascinating and informative collection of Walter Cronkite Jr.'s personal World War II letters to his wife." --AARP blog

"Something not all would expect: A completely different side of Walter Cronkite." --CBS News 

"A highly personal view of the man whose face became familiar to every American in the 1960s and '70s." --The Buffalo News 

"Illustrated with heartwarming photos of Walter and Betsy Cronkite during the war from the family collection." --Book Bargains & Previews 

"Tom Brokaw, whose career followed Cronkite's, describes this book as the 'quintessential American story.' Indeed it is." --NewsOK