Connecticut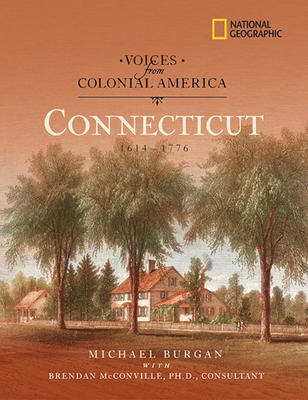 Connecticut
1614-1776
National Geographic Society, Hardcover, 9781426300684, 109pp.
Publication Date: August 14, 2007
* Individual store prices may vary.
Buy Now
or
Shop Local
Enter your zip code below to purchase from an indie close to you.
Description
The Constitution State. Land of Steady Habits. The Provision State. Connecticut has many names, each a colorful insight into the history of this stubborn, gutsy New England state. Eyewitness accounts, lively narrative, and archival images take readers back to Connecticut's formative years. Learn how the Þrst witchcraft trial and execution in North America took place there in 1647; how a quest for new opportunities and more religious freedom lead Massachusetts settlers to found Connecticut Colony in the fertile valley along the Quinnehtukqut River; why Thomas Hooker's Fundamental Orders, America's first written constitution, was adapted; and how hard work and "Yankee ingenuity" produced the bountiful harvests and the growth of manufacturing that helped win the Revolutionary War.

National Geographic supports K-12 educators with ELA Common Core Resources.
Visit www.natgeoed.org/commoncore for more information. 
About the Author
Formerly an editor at the educational publisher 'Weekly Reader', Michael Burgan has been a freelance writer for 17 years. He has written more than 250 books for children and young adults, specializing in U.S. history, geography, and biographies of world leaders. He has also written fiction and adapted classic novels. Burgan has won several awards for his writing, and his plays for adult audiences have been staged across the United States. He graduated from the University of Connecticut with a BA in history. He currently resides in Santa Fe, New Mexico with his cat Callie.

Brendan McConville is professor of history at Boston University and author of "These Daring Disturbers of the Public Peace: The Struggle for Property and Power in Early New Jersey".