A Little Peace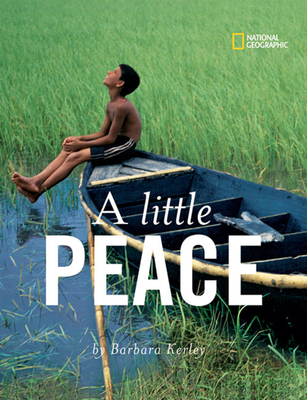 A Little Peace
National Geographic Society, Hardcover, 9781426300868, 32pp.
Publication Date: May 8, 2007
* Individual store prices may vary.
Buy Now
or
Shop Local
Enter your zip code below to purchase from an indie close to you.
Description
The latest National Geographic Children's Books title by Barbara Kerley, "A Little Peace, " gives a richly evocative and thought-provoking view of the world our children will inherit. Wise words and moving images offer a unique and enriching experience for every young reader. According to author Barbara Kerley, "I believe that peace doesn't just rest in the hands of politicians and world leaders. We all have the power to make the world more peaceful."
The book juxtaposes photographs from around the world with a simple, reflective message about our responsibilities for finding and keeping peace on the planet. Like the highly acclaimed titles "A Cool Drink of Water" and "You and Me Together, " this beautiful children's picture book features superb National Geographic images accompanied by a brief, poetic text on a subject of global importance. All the photography is reproduced in miniature at the back of the book with geographic, historic, and cultural context and details explained. A world map leads readers to the location of each image. "A Little Peace" offers a vital lesson for children everywhere.
National Geographic supports K-12 educators with ELA Common Core Resources.
Visitwww.natgeoed.org/commoncorefor more information.
About the Author
Barbara Kerley's previous National Geographic books include "A Cool Drink of Water" and "You and Me Together." Her book "The Dinosaurs of Waterhouse Hawkins" was a 2002 Caldecott Honor book and her acclaimed "Walt Whitman: Words for America" won an American Library Association Sibert Honor Medal for informational books. She is a former Peace Corps volunteer in Nepal, and she now lives in McKinleyville, CA.
Richard H. Solomon has had extensive experience negotiating with East Asian leaders. As assistant secretary of state for East Asian and Pacific affairs, he negotiated the first UN "Permanent Five" peacemaking agreement, for Cambodia, and led U.S. bilateral negotiations with Vietnam.
Solomon has been president of the United States Institute of Peace since 1993. He is the author of seven books, including "Chinese Negotiating Behavior: Pursuing Interests Through "Old Friends"" (USIP Press) and coauthor of "American Negotiating Behavior: Wheeler Dealers, Legal-Eagles, Bullies, and Preachers (USIP Press)".