Muckrakers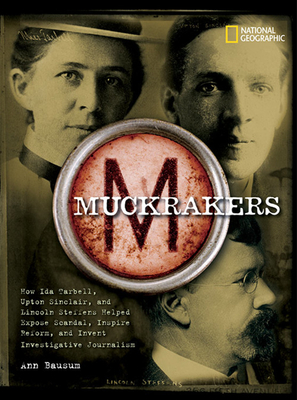 Muckrakers
How Ida Tarbell, Upton Sinclair, and Lincoln Steffens Helped Expose Scandal, Inspire Reform, and Invent Investigative
National Geographic Society, Hardcover, 9781426301377, 111pp.
Publication Date: September 11, 2007
* Individual store prices may vary.
Buy Now
or
Shop Local
Enter your zip code below to purchase from an indie close to you.
Description
Hold the presses Here's the sensational story of the birth of investigative journalism in America. At the turn of the 20th century, news reporters and monthly magazines collaborate to create a new kind of journalism in-depth, serialized "exposes" of corporate, labor, and political corruption. Many of these stories become instant bestsellers in book format: books like "The Jungle, Upton Sinclair's classic account of corruption in the meat-packing industry.
Ann Bausum's dramatic narrative follows a generation of dedicated journalists who force responsible changes in industry and politics as America thrives. Muckrakers" is the inside story of public-spirited journalism right through its evolution, with profiles of latter-day practitioners like Woodward and Bernstein and today's Internet bloggers.
Ann Bausum's storytelling savvy will engage and inspire young people to cherish age-old values such as truth and public accountability. "Muckrakers" is the scoop on American journalism.
National Geographic supports K-12 educators with ELA Common Core Resources.
Visitwww.natgeoed.org/commoncorefor more information.
About the Author
Ann Bausum is the daughter of a history professor and grew up in Lexington, Virginia, with a love of American history and a passion for research. She writes books about US history for young people and adults, and many of her books deal with issues of social justice. Her books consistently earn prominent national recognition. "Denied, Detained, Deported "(2009) was named the 2010 Carter G. Woodson Book Award winner at the secondary school level from the National Council for the Social Studies. "Muckrakers" (2007) earned the Golden Kite Award as best nonfiction book of the year from the Society of Children s Book Writers and Illustrators. "Freedom Riders" (2006) gained a Sibert Honor designation from the American Library Association, and "With Courage and Cloth" (2004) received the Jane Addams Children s Book Award as the year s best book on social justice issues for older readers. She lives in Beloit, Wisconsin.

Daniel Schorr has covered the news for more than six decades. In addition to winning three Emmys(R), he has received the Alfred I. DuPont-Columbia University Golden Baton for Exceptional Contribution to Radio and Television Reporting and Commentary, a Peabody personal award for "a lifetime of uncompromising reporting of the highest integrity," and the George Polk Radio commentary award. He has been inducted into the Society of Professional Journalists Hall of Fame. Schorr reported alongside Edward R. Murrow and Walter Cronkite for CBS, started CNN with Ted Turner, and is now senior news analyst for National Public Radio(R).