Not a Drop to Drink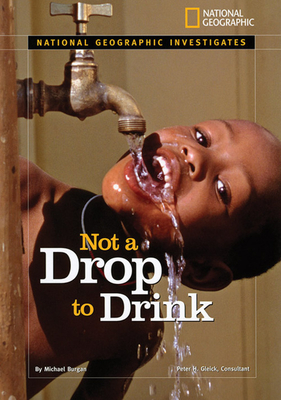 Not a Drop to Drink
Water for a Thirsty World
National Geographic Society, Hardcover, 9781426303609, 64pp.
Publication Date: October 14, 2008
* Individual store prices may vary.
Buy at Local Store
Enter your zip code below to purchase from an indie close to you.
or
Buy Here
Description
Water is one of Earth's hot environmental topics. The scarcity of clean drinking water will have dramatic consequences for humanity in the 21st century: water disputes could spark regional conflict, while increased desertification and drought could affect world food supplies and the future of farming. "Not a Drop to Drink" conveys a clear message to young readers about this precious commodity and our urgent need to conserve it.
National Geographic supports K-12 educators with ELA Common Core Resources.
Visitwww.natgeoed.org/commoncorefor more information.
About the Author
Formerly an editor at the educational publisher 'Weekly Reader', Michael Burgan has been a freelance writer for 17 years. He has written more than 250 books for children and young adults, specializing in U.S. history, geography, and biographies of world leaders. He has also written fiction and adapted classic novels. Burgan has won several awards for his writing, and his plays for adult audiences have been staged across the United States. He graduated from the University of Connecticut with a BA in history. He currently resides in Santa Fe, New Mexico with his cat Callie.

Dr. Peter Gleick is renowned the world over as a leading expert, innovator, and communicator on water and climate issues. He co-founded and leads The Pacific Institute in Oakland, celebrating its 25th anniversary in 2012 as one of the most innovative, independent non-governmental organizations in the fields of water and economic and environmental justice and sustainability. Dr. Gleick's work has redefined water from the realm of engineers to the world of social justice, sustainability, human rights, and integrated thinking. His influence on the field of water has been long and deep: he developed the first analysis of climate change impacts on water resources, the earliest comprehensive work on water and conflict, and defined basic human needs for water and the human right to water work that has been used by the UN and in human rights court cases. He pioneered the concept of the 'soft path for water, ' developed the idea of "peak water," and has written about the need for a "local water movement." Dr. Gleick received the prestigious MacArthur "genius" Fellowship and was named "a visionary on the environment" by the BBC. He was elected both an Academician of the International Water Academy, in Oslo, Norway and a member of the U.S. National Academy of Sciences. "Wired Magazine" featured Dr. Gleick as "one of 15 people the next President should listen to." He received his B.S. from Yale University and an M.S. and Ph.D. from the University of California, Berkeley. Dr. Gleick serves on the boards of numerous journals and organizations, and is the author of many scientific papers and nine books, including the influential series "The World's Water" and "Bottled and Sold: The Story Behind Our Obsession with Bottled Water", as well as "A Twenty-First Century Water Policy".