This Is Rocket Science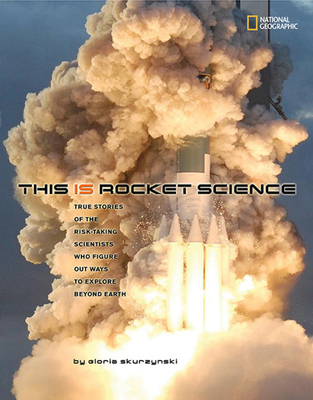 This Is Rocket Science
True Stories of the Risk-Taking Scientists Who Figure Out Ways to Explore Beyond Earth
National Geographic Society, Hardcover, 9781426305979, 80pp.
Publication Date: April 13, 2010
* Individual store prices may vary.
Buy Now
or
Shop Local
Enter your zip code below to purchase from an indie close to you.
Description
..three, two, one... we have liftoff From the award-winning author of "Are We Alone?" comes a title to propel young imaginations far into space. "This Is Rocket Science" explores the past, present, and future of space travel.
The compelling text vetted by NASA scientists is a combination of history, science, human drama, and future challenges. Readers learn how fireworks in ancient China developed into the fire arrows used by Genghis Khan; we meet Sir Isaac Newton, Jules Verne, H.G. Wells, and learn how their imaginations shaped rocketry. We revisit the era of Sputnik, the satellite that launched a superpower space race, ending with moonwalks and a rendezvous in space. Finally we look forward to the future challenges of Mars and beyond. We also get a sneak peek at new technologies like space elevators, solar sails, ion propulsion, and more.
About the Author
Gloria Skurzynski is the author of more than fifty books for children and young adults, including "Virtual War", "The Clones", and "The Revolt". Her books have won numerous awards, among them the Christopher Award, the Spur Award from the Western Writers of America, the Golden Kite Award, and the Science Book Award from the American Institute of Physics. She lives with her husband, Ed, in Boise, Idaho. You can visit her website at gloriabooks.com.
Praise For This Is Rocket Science…
Gloria Skurzynski does something unique here by writing about the early development of rocket science itself, and includes the work of scientists from a variety of countries including Russia and Germany. She starts with the history of rocketry, going back to China's development of gunpowder and Italy's embrace of fireworks (more valuable trivia: the word rocket is based on the Italian word rocce, which means "long thin tube"), and then moves forward into the interesting coincidence that many early rocket scientists were fans of Jules Verne and H. G. Wells. Is that cool or what?—Colleen Mondor, Bookslut.com