Superman Versus the Ku Klux Klan the True Story of How the Iconic Superhero Battled the Men of Hate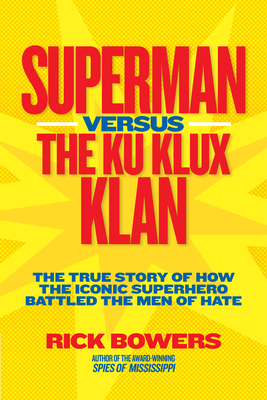 Superman Versus the Ku Klux Klan the True Story of How the Iconic Superhero Battled the Men of Hate
National Geographic Society, Hardcover, 9781426309151, 160pp.
Publication Date: January 10, 2012
* Individual store prices may vary.
Shop Local
Enter your zip code below to find indies closest to you.
Description
This book tells a group of intertwining stories that culminate in the historic 1947 collision of the Superman Radio Show and the Ku Klux Klan. It is the story of the two Cleveland teenagers who invented Superman as a defender of the little guy and the New York wheeler-dealers who made him a major media force. It is the story Ku Klux Klan's development from a club to a huge money-making machine powered by the powers of fear and hate and of the folklorist who--along with many other activists-- took on the Klan by wielding the power of words. Above all, it tells the story of Superman himself--a modern mythical hero and an embodiment of the cultural reality of his times--from the Great Depression to the present.
National Geographic supports K-12 educators with ELA Common Core Resources.
Visit www.natgeoed.org/commoncore for more information.
About the Author
Naturalists and photographers Nora Bowers and Rick Bowers have studied and photographed wildlife throughout North America. Their work has been featured in many books and magazines, and they were the principal photographers for the two previous Kaufman Focus Guides, to birds and butterflies.