Mayflower 1620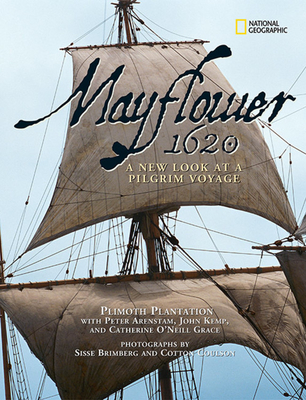 Mayflower 1620
A New Look at a Pilgrim Voyage
National Geographic Society, Library Binding, 9781426316319, 47pp.
Publication Date: August 27, 2013
* Individual store prices may vary.
Shop Local
Enter your zip code below to find indies closest to you.
About the Author
Plimoth Plantation and the National Geographic Society come together to tell the true story behind the legendary voyage of the <i>Mayflower</i>. A meticulously researched work, <i>Mayflower 1620</i> offers children a compelling, fresh account of this much-told story. <br><br>Vibrant photography of a rare reenactment using the <i>Mayflower II</i> leads readers imaginatively into the narrative. The vivid and informative text explores the story behind the exhibits at the living-history museum in Plymouth, Massachusetts. Primary sources record what the voyagers wore, what they ate, and telling details of their journey. First-person accounts reveal the hopes and dreams they carried. Readers share in the long hours at sea, and in the dangers faced after landfall. Extensive end notes, a map, a detailed chronology, and a bibliography round out the full story of the <i>Mayflower</i>. <br><br>Readers experience a new look at this seminal historical event through the eyes of those who now regularly inhabit the world of the pilgrims&#151;the actors who interpret the Pilgrim Voyage. This eye-opening book teaches children the value of closely reexamining everything we think we know.

SISSE BRIMBERG and COTTON COULSON shot the photos for this book during an historic reenactment sail. Brimberg has photographed more than 20 articles for NATIONAL GEOGRAPHIC magazine. Coulson, a former contributing photographer to NATIONAL GEOGRAPHIC, has been shooting at Plimoth Plantation since 1976. The couple lives in Mill Valley, California.