Cooking the Books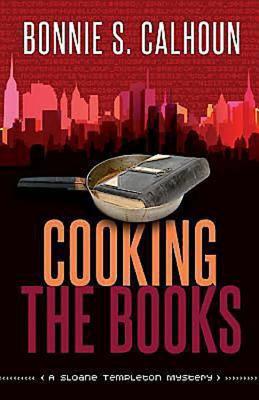 Cooking the Books
A Sloane Templeton Mystery
Abingdon Press, Paperback, 9781426733888, 312pp.
Publication Date: April 1, 2012
* Individual store prices may vary.
Buy at Local Store
Enter your zip code below to purchase from an indie close to you.
or
Not Currently Available for Direct Purchase
Description
After her mother dies from a heart attack, Sloane Templeton goes from Cyber Crimes Unit to bookstore owner before she can blink. She also "inherits" a half-batty store manager;a strange bunch of little old people from the neighborhood who meet at the store once a week, but never read books, called the Granny Oakleys Book Club; and Aunt Verline, who fancies herselfan Iron Chef when in reality you need a cast iron stomach to partake of her culinary disasters. And with a group like this you should never ask, What else can go wrong?
A lot Sloane begins to receive cyber threats. While Sloane uses her computer forensic skills to uncover the source of the threats, it is discovered someone isout to killher. Can her life get more crazy?
"Bonnie Calhoun's first Sloane Templeton mystery, Cooking the Books, is one of the most delightful new fiction voices I've read in years. My only complaint--waiting for the sequel. If this book doesn't have you ROFLOL, you'd better check your pulse "--Jeanette Windle
"Bonnie Calhoun's debut novel, Cooking the Books, is as fun and quirky as the author herself. The cast of characters brims with unexpected humor and heart, and Sloane's take on the world around her keeps the reader eagerly turning pages to see what she'll say or do next. I look forward to more Sloane Templeton adventures."--Sandra D. Bricker, award-winning author of the Emma Rae Creation series that began with Always the Baker, Never the Bride
"What do a gangsta ex-boyfriend, gunslinging grannies, computer hacking, two very unusual books, and the world's worst chef all have in common? You ll find them in Bonnie Calhoun's debut novel, Cooking the Books. It's a one-of-a-kind a potboiler filled to the brim with plot twists, romance, and humor. A tasty treat for romantic suspense fans."--Rick Acker, author of When the Devil Whistlesand Dead Man's Rule
"Bonnie S. Calhoun is a master weaver of snarky humor and suspense. Cooking the Books is fast paced, laugh out loud funny with enough suspense to make you shiver. Sloane is an oxymoron: tough as nails on crime and injustice, yet her Aunt Verline and Fifi, her nutty store manager, manipulate her. Novel Rocket and I give it a high recommendation. It's a must read."--Ane Mulligan, Sr. Editor Novel Rocket
"Bonnie S. Calhoun pens a heroine with snap and pizzazz. Sloane Templeton wonders why an old book is cause for bullets, and whether her refusal to sell her business justifies harrassment. A fast-paced mystery full of colorful characters and a last minute twist--what's not to love?"--S. Dionne Moore, Author of Promise Brides, 2010 and 2011 Carol Award Finalist.