A Trick of the Light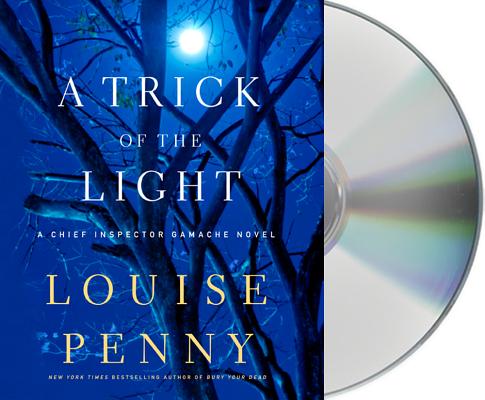 A Trick of the Light
MacMillan Audio, Compact Disc, 9781427213204, 9pp.
Publication Date: August 30, 2011
* Individual store prices may vary.
Buy Now
or
Shop Local
Enter your zip code below to purchase from an indie close to you.
Description
A "New York Times" Notable Crime Book and Favorite Cozy for 2011
A "Publishers Weekly" Best Mystery/Thriller books for 2011
""Penny has been compared to Agatha Christie but] it sells her short. Her characters are too rich, her grasp of nuance and human psychology too firm...." --"Booklist "(starred review)"
""
"""Hearts are broken," Lillian Dyson carefully underlined in a book. "Sweet relationships are dead."
But now Lillian herself is dead. Found among the bleeding hearts and lilacs of Clara Morrow's garden in Three Pines, shattering the celebrations of Clara's solo show at the famed Musee in Montreal. Chief Inspector Gamache, the head of homicide at the Surete du Quebec, is called to the tiny Quebec village and there he finds the art world gathered, and with it a world of shading and nuance, a world of shadow and light. Where nothing is as it seems. Behind every smile there lurks a sneer. Inside every sweet relationship there hides a broken heart. And even when facts are slowly exposed, it is no longer clear to Gamache and his team if what they've found is the truth, or simply a trick of the light.
About the Author
LOUISE PENNY is the #1 "New York Times "and "Globe and Mail "bestselling author of more than ten Chief Inspector Armand Gamache novels. She has won numerous awards, including a CWA Dagger and the Agatha Award (five times) and was a finalist for the Edgar Award for Best Novel. She lives in a small village south of Montreal.

Ralph Cosham is best known as the voice behind all of Louise Penny s bestselling Chief Inspector Gamache novels. He won the 2013 Audie Award for Louise Penny s "A Beautiful Mystery". He is a film, stage, and voice actor who narrated over 100 audiobooks, including "Frankenstein", "Around the World in Eighty Days", "Alice in Wonderland", and "Watership Down". His audiobook credits include works by C.S. Lewis, Simon Brett and C.S. Forester. Several of his works have been awarded Audio Best of the Year by "Publisher s Weekly".
Praise For A Trick of the Light…
"The superbly gifted Louise Penny is on my secret shortlist of must-read authors, and A TRICK OF THE LIGHT proves why. Artist Clara Morrow is about to have a prestigious show of her paintings when her childhood friend is found murdered, and the finger of suspicion points to Clara. Chief Inspector Gamache is called to investigate, and using his trademark powers of deduction and his intuitive knack for the right question at the right time, he exposes the darkness that underlies the bright stars of Montreal's art world, where competition between friends, and even between husband and wife, can turn lethal. Ultimately, of course, it's Louise Penny who steals the show, and A TRICK OF THE LIGHT will not only keep you engrossed from start to finish, it will teach you something new about love, truth, and the human heart." --Lisa Scottoline
"Penny, elevating herself to the pantheon that houses P.D. James, Ruth Rendell and Minette Walters, demonstrates an exquisite touch with characterization, plotting and artistic sensitivity. And there could be no better explanation of A.A. than you will find here." --Kirkus Reviews (starred review)
"Outstanding….With her usual subtle touch and timely injections of humor, Penny effectively employs the recurring motif of the chiaroscuro, the interplay of light and dark, which distinguishes Morrow's artwork and which resonates symbolically in the souls of the author's characters."—Publishers Weekly (starred review)
"Like P. D. James, Penny shows how the tight structure of the classical mystery story can accommodate a wealth of deeply felt emotions and interpersonal drama."—Booklist"Penny's characters are sharply drawn, realistically complicated and heartbreakingly real. Wonderful, complex characters and sophisticated plotting makes this a perfect book. Do not miss it."—RT Book Reviews