The Alloy of Law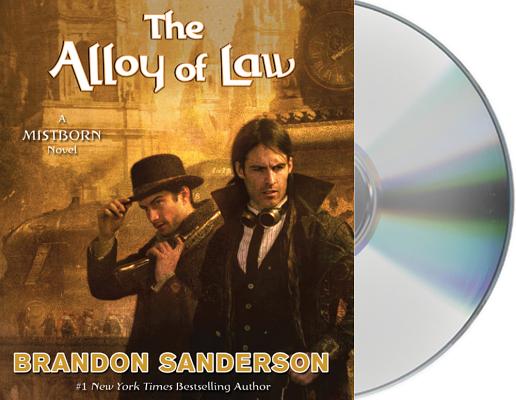 The Alloy of Law
A Mistborn Novel
Macmillan Audio, Compact Disc, 9781427214584
Publication Date: November 8, 2011
* Individual store prices may vary.
Buy at Local Store
Enter your zip code below to purchase from an indie close to you.
or
Not Currently Available for Direct Purchase
Description
Fresh from the success of "The Way of Kings, " Brandon Sanderson, best known for completing Robert Jordan's Wheel of Time(r), takes a break to return to the world of the bestselling Mistborn series.
Three hundred years after the events of the Mistborn trilogy, Scadrial is now on the verge of modernity, with railroads to supplement the canals, electric lighting in the streets and the homes of the wealthy, and the first steel-framed skyscrapers racing for the clouds.
Kelsier, Vin, Elend, Sazed, Spook, and the rest are now part of history or religion. Yet even as science and technology are reaching new heights, the old magics of Allomancy and Feruchemy continue to play a role in this reborn world. Out in the frontier lands known as the Roughs, they are crucial tools for the brave men and women attempting to establish order and justice.
One such is Waxillium Ladrian, a rare Twinborn, who can Push on metals with his Allomancy and use Feruchemy to become lighter or heavier at will. After twenty years in the Roughs, Wax has been forced by family tragedy to return to the metropolis of Elendel. Now he must reluctantly put away his guns and assume the duties and dignity incumbent upon the head of a noble house. Or so he thinks, until he learns the hard way that the mansions and elegant tree-lined streets of the city can be even more dangerous than the dusty plains of the Roughs.
About the Author
Brandon Sanderson grew up in Lincoln, Nebraska. He lives in Utah with his wife and children and teaches creative writing at Brigham Young University. He will shortly complete Robert Jordan's bestselling Wheel of Time® series with the long-awaited A Memory of Light.
Michael Kramer
has narrated over 100 works for many bestselling authors. He has received
Audiofile
magazine's Earphones Award for the Kent Family series by John Jakes and for Alan Fulsom's
The Day After Tomorrow
. He has also read for Robert Jordan's epic Wheel of Time fantasy-adventure series. His work includes recording books for the Library of Congress's Talking Books program for the blind and physically handicapped.  Michael also works as an actor in the Washington, D.C. area, where he lives with his wife, Jennifer Mendenhall, and their two children. He has appeared as Lord Rivers in Richard III at The Shakespeare Theatre, Howie/Merlin in The Kennedy Center's production of The Light of Excalibur, Sam Riggs and Frederick Savage in Woody Allen's Central Park West/Riverside Drive, and Dr. Qari Shah in Tony Kushner's Homebody/Kabul at Theatre J.
Praise For The Alloy of Law…
Praise for THE ALLOY OF LAW:
"Kramer is the type of reader who is skillful enough to read a story without making his character voicing sound forced. He provides enough differences in character speech patterns and accents to help you easily follow the story." – SFF Audio
"Sanderson's blend of rapid-fire action, vivid characterization, and snappy, bantering dialogue makes for a great audio experience. Reader Michael Kramer has an incredibly impressive vocal range, from the natural baritone in which he narrates to the alto he uses for women. Macmillan is also to be commended for including with the audio a PDF of a facsimile broadsheet that appears in the print version of the books and which would not have translated easily into audio. Be smart and don't miss this one." – Locus
"Michael Kramer performs a terrific frontiersman – laconic and drawling…This is a Western, at least in spirit, set within a fantasy world with an innovative magic system that's fun to figure out." – AudioFile Magazine
Praise for the Mistborn series and Brandon Sanderson:

" [The Hero of Ages] brings the Mistborn epic fantasy trilogy to a dramatic and surprising climax…. Sanderson's saga of consequences offers complex characters and a compelling plot, asking hard questions about loyalty, faith, and responsibility."
--Publishers Weekly

" Sanderson is an evil genius. There is simply no other way to describe what he's managed to pull off in this transcendent final volume of his Mistborn trilogy."
--RT Book Reviews (Gold Medal, Top Pick!) on The Hero of Ages

" It's rare for a fiction writer to have much understanding of how leadership works and how love really takes root in the human heart. Sanderson is astonishingly wise."
--Orson Scott Card