Gamers at Work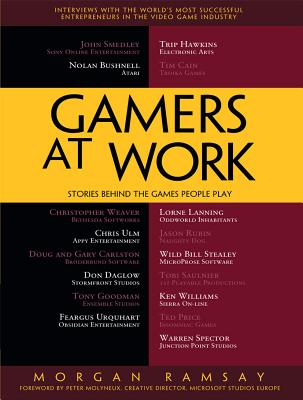 Gamers at Work
Stories Behind the Games People Play
Apress, Paperback, 9781430233510, 356pp.
Publication Date: February 8, 2012
* Individual store prices may vary.
Buy Now
or
Shop Local
Enter your zip code below to purchase from an indie close to you.
Description
"Gamers at Work is a critical resource for new and experienced business leaders--for anyone who feels unprepared for the demanding and seemingly insurmountable trials ahead of them." --Peter Molyneux OBE, founder, Lionhead Studios
"Gamers at Work explores every imaginable subtlety of the video-game industry through the fascinating stories of those who took the risks and reaped the rewards." --Hal Halpin, president, Entertainment Consumers Association
"This is the sort of book that can tear the most hardcore gamers away from their PCs, Macs, or consoles for a few hours of rewarding reading." --North County Times
"Gamers at Work is truly an invaluable resource that's well worth adding to your personal library." --Wii Love It
There are few companies in the video-game industry that have withstood the test of time; most startups exit as quickly as they enter. In Gamers at Work: Stories Behind the Games People Play, the countless challenges of building successful video-game developers and publishers in this unstable industry are explored through interviews containing entertaining stories, humorous anecdotes, and lessons learned the hard way.
Gamers at Work presents an inside look at how 18 industry leaders play the odds, seize opportunities, and transform small businesses into great businesses. Here, in Gamers at Work, you will find their stories replete with their personal struggles, corporate intrigue, and insights into strategy, leadership, and management.
Gamers at Work Explores the formation of entertainment software companies from the perspectives of successful founders who played the odds Provides insight into why experienced professionals sacrifice the comfort of gainful employment for the uncertainty and risk of the startup Shares the experiences and lessons that shape the lives, decisions, and struggles of entrepreneurs in this volatile business
As an added bonus, check out Online Game Pioneers at Work, published in 2015, for even more incredible stories from leaders in the mobile space.
Featured Entrepreneurs: Trip Hawkins, Electronic Arts (Madden NFL) Nolan Bushnell, Atari (Pong) Wild Bill Stealey, MicroProse Software (Sid Meier's Civilization) Tony Goodman, Ensemble Studios (Age of Empires) Feargus Urquhart, Obsidian Entertainment (Star Wars: Knights of the Old Republic II) Tim Cain, Troika Games (Arcanum, Vampire: the Masquerade--Bloodlines) Warren Spector, Junction Point Studios (Disney Epic Mickey) Doug & Gary Carlston, Broderbund Software (Prince of Persia, Carmen Sandiego) Don Daglow, Stormfront Studios (Neverwinter Nights, Tony La Russa Baseball) John Smedley, Verant Interactive (EverQuest, PlanetSide) Ken Williams, Sierra On-Line (King's Quest, Leisure Suit Larry) Lorne Lanning, Oddworld Inhabitants (Oddworld) Chris Ulm, Appy Entertainment (FaceFighter, Trucks & Skulls) Tobi Saulnier, 1st Playable (Kung Zhu, Yogi Bear) Christopher Weaver, Bethesda Softworks (The Elder Scrolls) Jason Rubin, Naughty Dog (Crash Bandicoot, Uncharted) Ted Price, Insomniac Games (Spyro, Resistance)
Other books in the Apress At Work Series: Coders at Work, Seibel, 978-1-4302-1948-4
Venture Capitalists at Work, Shah & Shah, 978-1-4302-3837-9
CIOs at Work, Yourdon, 978-1-4302-3554-5
CTOs at Work, Donaldson, Seigel, & Donaldson, 978-1-4302-3593-4
Founders at Work, Livingston, 978-1-4302-1078-8
European Founders at Work, Santos, 978-1-4302-3906-2
Women Leaders at Work, Ghaffari, 978-1-4302-3729-7
Advertisers at Work, Tuten, 978-1-4302-3828-7.
About the Author
As a serial entrepreneur, Morgan Ramsay has significant leadership experience in the defense and entertainment industries. He is president and chief executive officer at Entertainment Media Council, the first and only association for entrepreneurs, C-level executives, and senior managers in the interactive entertainment business.