Total Truth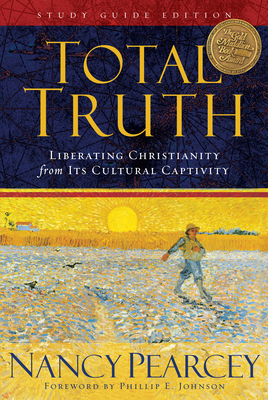 Total Truth
Liberating Christianity from Its Cultural Captivity
Crossway Books, Paperback, 9781433502200, 511pp.
Publication Date: February 2008
* Individual store prices may vary.
Shop Local
Enter your zip code below to find indies closest to you.
Description
Does God belong in the public arena of politics, business, law, and education? Or is religion a private matter only-personally comforting but publicly irrelevant?
In today's cultural etiquette, it is not considered polite to mix public and private, or sacred and secular. This division is the single most potent force keeping Christianity contained in the private sphere-stripping it of its power to challenge and redeem the whole of culture.
In Total Truth, Nancy Pearcey offers a razor-sharp analysis of the public/private split, explaining how it hamstrings our efforts at both personal and cultural renewal. Ultimately it reflects a division in the concept of truth itself, which functions as a gatekeeper, ruling Christian principles out of bounds in the public arena.
How can we unify our fragmented lives and recover spiritual power? With examples from the lives of real people, past and present, Pearcey teaches readers how to liberate Christianity from its cultural captivity. She walks readers through practical, hands-on steps for crafting a full-orbed Christian worldview.
Finally, she makes a passionate case that Christianity is not just religious truth but truth about total reality. It is total truth.
This new study guide edition is filled with fresh stories, examples, and illustrations. Based on questions and comments raised by readers of the book, it is ideal for individual or group study.
About the Author
Nancy Pearcey is professor of Worldview Studies at Philadelphia Biblical University and editor-at-large of "The Pearcey Report". Formerly an agnostic, she studied Christian worldview at L'Abri Fellowship in Switzerland with Francis Schaeffer in the 1970s and was later named the Francis A. Schaeffer Scholar at the World Journalism Institute in New York City. There she taught a worldview course based on her 2005 ECPA Gold Medallion Awardwinning book, "Total Truth". Pearcey also founded the daily radio program "BreakPoint," wrote a monthly column in "Christianity Today "magazine for five years, and coauthored Charles Colson's book, "How Now Shall We Live? "She and her husband have two sons.

Phillip E. Johnson taught law for more than thirty years at the University of California--Berkeley where he is professor emeritus. He is recognized as a leading spokesman for the intelligent design movement, and is the author of many books, including Darwin on Trial, Reason in the Balance and Defeating Darwinism by Opening Minds.