10 Questions Every Christian Must Answer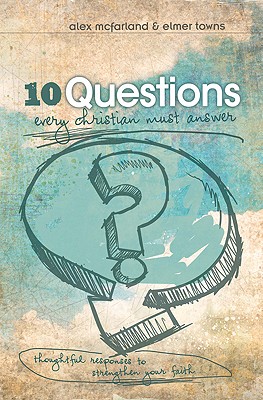 10 Questions Every Christian Must Answer
Thoughtful Responses to Strengthen Your Faith
B&H Publishing Group, Paperback, 9781433671814, 206pp.
Publication Date: May 1, 2011
* Individual store prices may vary.
Buy Now
or
Shop Local
Enter your zip code below to purchase from an indie close to you.
Description
Would a loving God really send people to hell? Can we really trust what the Bible says? Is Jesus really the only way to heaven?
Becoming a Christian does not mean that all of the questions about faith are instantly answered. In fact, more questions are likely to follow. However, not having knowledge about certain issues can dampen your faith and rob you of the joy that comes from confidently sharing it with others.
"Ten Questions Every Christian Must Answer" provides responses to the toughest conversations regarding one's inward faith as well as the outward expression of it and is relevant to new believers and longtime Christ followers alike. Led by respected scholars Elmer Towns and Alex McFarland, readers can be sure this content is backed by sharp minds, deep thinking, and the unchanging Word of God.
About the Author
Alex McFarland is a speaker, writer, and apologist. He has preached in over 1,500 different churches throughout North America and internationally, and has been featured at conferences such as the Billy Graham School of Evangelism, Focus on the Family's "Big Dig", Josh McDowell's "True Foundations" events, and many more. In 2011, Alex became cohost of "Explore the Word", which is heard weekdays in the nearly 200 markets served by the American Family Radio Network. Alex and his wife, Angie, live in Greensboro, North Carolina. Learn more at www.alexmcfarland.com.

Dr. Elmer Towns is a college and seminary professor, an author of popular and scholarly works (the editor of two encyclopedias), a popular seminar lecturer, and dedicated worker in Sunday school, and has developed over 20 resource packets for leadership education. He has published over 100 books listed in the Library of Congress, 7 listed in the Christian Booksellers Best Selling List; several becoming accepted as college textbooks. He is also the 1995 recipient of the coveted Gold Medallion Award awarded by the Christian Booksellers Association for writing the Book of the Year, i.e., The Names of the Holy Spirit. He is co-founder of Liberty University, with Jerry Falwell, in 1971, and was the only full-time teacher in the first year of Liberty's existence. Today, the University has over 11,400 students on campus with 39,000 in the Distance Learning Program (now Liberty University Online), and he is the Dean of the School of Religion.