The Resolution for Women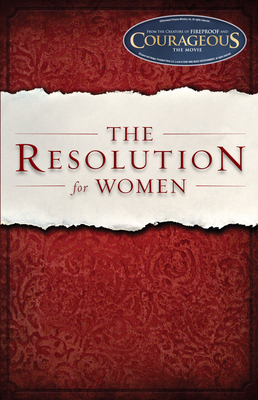 The Resolution for Women
B&H Publishing Group, Paperback, 9781433674013, 288pp.
Publication Date: September 1, 2011
* Individual store prices may vary.
Buy at Local Store
Enter your zip code below to purchase from an indie close to you.
or
Buy Here
Description
Written in partnership with Sherwood Pictures' upcoming film, COURAGEOUS, in "The Resolution for Women," popular speaker and author Priscilla Shirer challenges all women to be intentional about embracing and thriving in God's beautiful and eternal calling on their lives.
Like the men in the movie who resolve to fully accept their responsibilities before God, Shirer explains how today's women can and should live out their own resolution. It is "a defining banner that hangs over your life, written in the ink of your own choices." A woman's banner should be an accurate reflection of who she desires to be-someone completely Christ-centered who blesses and changes things in her world for the better.
"The Resolution for Women" inspires women with intentional, spirit-filled living from three unique angles. Section one, entitled, "This Is Who I Am," helps a woman define herself as "authentically me, purposefully feminine, surprisingly satisfied, and faithfully His." Section two, "This Is What I Have," invites her to value "my best, my blessing, my honor, and my heart." And Section three, "This Is What Matters To Me," focuses on joyfully honoring God as a wife, mother, and family member while resolving to live with the grace that leaves a godly legacy. "The Resolution for Women" is designed to inspire a revolution.
About the Author
Priscilla Shirer, maestra de ensenanza biblica y conferencista, tiene un diploma de Master en Estudios Biblicos del Seminario Teologico de Dallas. Tambien es reconocida como escritora. Entre sus libros se incluye "Uno en un millon", "Interrupcion divina" y "La resolucion para mujeres", este ultimo incorporado a la lista de titulos exitosos del "New York Times". Tambien actua como personaje principal en la pelicula Cuarto de guerra ("War Room"). Priscila esta casada con Jerry Shirer, con quien fundo el ministerio Going Beyond . Tienen tres hijos y viven en Dallas, Texas. Priscilla Shirer is a Bible teacher and conference speaker with a Master s degree in Biblical Studies from Dallas Theological Seminary. Also a popular author, her books include the New York Times Best-Seller, The Resolution for Women, One in a Million, and Life Interrupted. She is also the lead character in the War Room movie. Priscilla is married to Jerry with whom she founded Going Beyond Ministries. They have three sons and live in Dallas, Texas.

Stephen Kendrick is a speaker, screenwriter, and producer whose film credits include "Flywheel", "Facing the Giants", "Fireproof", and "Courageous". Stephen co-authored the "New York Times" bestsellers "The Love Dare" and "The Resolution for Men". He is an associate pastor of preaching and prayer at Sherwood Church and serves on the board of the Fatherhood CoMission. Stephen and his wife, Jill, have six children.

Alex Kendrick es pastor asociado de misiones cinematograficas de la Iglesia Bautista Sherwood. Es tambien actor, escritor y director cinematografico, El y su esposa, Christina, tienen seis hijos. Alex Kendrick is associate pastor of movie outreach for Sherwood Baptist Church. He is also an actor, writer, and director whose film credits include Facing the Giants, Fireproof, and Courageous. He and his wife, Christina, have six children.