When God Breaks Your Heart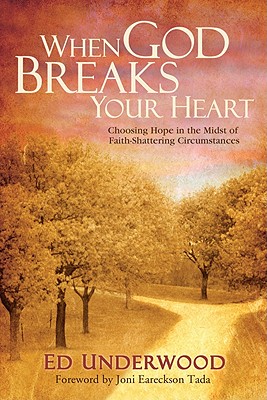 When God Breaks Your Heart
Choosing Hope in the Midst of Faith-Shattering Circumstances
David C Cook, Paperback, 9781434767516, 219pp.
Publication Date: October 1, 2008
* Individual store prices may vary.
Not Currently Available for Direct Purchase
or
Shop Local
Enter your zip code below to purchase from an indie close to you.
Description
"Why is God letting this happen to me?"
If you have never asked this question, you someday will.
There is perhaps no greater challenge to our faith than personal suffering. For pastor Ed Underwood this challenge came in the form of chronic leukemia. Though he prayed for and believed in God's healing, as the days slipped by and his pain became unbearable, Ed's heart was broken by a simple realization: The God who could do anything was not helping him. Yet a revelation from God's Word changed his heart and life forever.
In this poignant journey from tragedy to hope, Ed takes a fresh look at the story of Lazarus and his sisters a story that explores suffering through the eyes of our Lord and His people. You'll find comfort during difficulty, be inspired to ask for the impossible, and discover a God whose heart breaks with yours.
About the Author
Dr. Earl D. Radmacher (1931-2014) served at Western Seminary for thirty-three years (1962-1995) as Dean of the Faculty (1964-1965), President (1965-1990), and Chancellor (1990-1995). In 1995 he was designated President Emeritus and Distinguished Professor of Systematic Theology Emeritus.
Among the numerous books and articles that Dr. Radmacher has authored or edited are: You & Your Thoughts, The Nature of the Church, Can We Trust the Bible, What to Expect from the Holy Spirit, Hermeneutics, Inerrancy, and the Bible, The NIV Reconsidered, The Nelson Study Bible, Nelson's New Illustrated Bible Commentary, Salvation, and The Disciplemaker.
Joni Eareckson Tada is founder and CEO of Joni and Friends, an organization that accelerates Christian outreach in the disability community. Joni and Friends provides practical support and spiritual help to special needs families worldwide, and equips thousands of churches in developing disability ministry. Joni is the author of numerous best-selling books, including When God Weeps, Diamonds in the Dust, A Lifetime of Wisdom, and A Step Further, winner of the Gold Medallion Award. Joni and her husband, Ken, have been married for over 30 years. For more information on Joni and Friends, visit www.joniandfriends.org