The Promise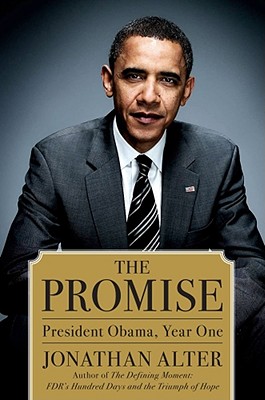 The Promise
President Obama, Year One
Simon & Schuster, Hardcover, 9781439101193, 480pp.
Publication Date: May 18, 2010
* Individual store prices may vary.
Not Currently Available for Direct Purchase
or
Shop Local
Enter your zip code below to purchase from an indie close to you.
Description
Barack Obama's inauguration as president on January 20, 2009, inspired the world. But the great promise of "Change We Can Believe In" was immediately tested by the threat of another Great Depression, a worsening war in Afghanistan, and an entrenched and deeply partisan system of business as usual in Washington. Despite all the coverage, the backstory of Obama's historic first year in office has until now remained a mystery.
In The Promise: President Obama, Year One, Jonathan Alter, one of the country's most respected journalists and historians, uses his unique access to the White House to produce the first inside look at Obama's difficult debut.
What happened in 2009 inside the Oval Office? What worked and what failed? What is the president really like on the job and off-hours, using what his best friend called "a Rubik's Cube in his brain?" These questions are answered here for the first time. We see how a surprisingly cunning Obama took effective charge in Washington several weeks before his election, made trillion-dollar decisions on the stimulus and budget before he was inaugurated, engineered colossally unpopular bailouts of the banking and auto sectors, and escalated a treacherous war not long after settling into office.
The Promise is a fast-paced and incisive narrative of a young risk-taking president carving his own path amid sky-high expectations and surging joblessness. Alter reveals that it was Obama alone—"feeling lucky"—who insisted on pushing major health care reform over the objections of his vice president and top advisors, including his chief of staff, Rahm Emanuel, who admitted that "I begged him not to do this."
Alter takes the reader inside the room as Obama prevents a fistfight involving a congressman, coldly reprimands the military brass for insubordination, crashes the key meeting at the Copenhagen Climate Change conference, and bounces back after a disastrous Massachusetts election to redeem a promise that had eluded presidents since FDR.
In Alter's telling, the real Obama is an authentic, demanding, unsentimental, and sometimes overconfident leader. He adapted to the presidency with ease and put more "points on the board" than he is given credit for, but neglected to use his leverage over the banks and failed to connect well with an angry public. We see the famously calm president cursing leaks, playfully trash-talking his advisors, and joking about even the most taboo subjects, still intent on redeeming more of his promise as the problems mount.
This brilliant blend of journalism and history offers the freshest reporting and most acute perspective on the biggest story of our time. It will shape impressions of the Obama presidency and of the man himself for years to come.
About the Author
Jonathan Alter is a columnist for Bloomberg View and an analyst and contributing correspondent for NBC News and MSNBC. He is a former senior editor and columnist for Newsweek, where he worked twenty-eight years, writing more than fifty cover stories. He has also written for The New York Times, The Washington Post, The Atlantic, and other publications. He is the author of The Promise: President Obama, Year One and The Defining Moment: FDR's Hundred Days and the Triumph of Hope, both New York Times bestsellers.
Praise For The Promise…
Praise for The Promise




"Gives us a new perspective on the 44th president by providing a detailed look at his decision-making . . . and a keen sense of what it's like to work in his White House. . . . Alter uses his considerable access to the president and his aides to give us an informed look at No. 44's management style."
--Michiko Kakutani, The New York Times




"Jonathan Alter has delivered an exceptionally well-written account of President Obama's first year in office. Brimming with fresh and judicious ideas, his book fuses political analysis, subtle insights into the president's mind and policy debates into a fast-paced, crisis-filled story. "The Promise," based on more than 200 interviews with Obama and his close friends and aides, provides an uncommonly candid look inside a somewhat walled-off White House. . . . Alter's deeply reported and analytically arresting book takes Obama's story in subtler and more contradictory directions than it has gone before."
--Matthew Dallek, The Washington Post Book World



"Jonathan Alter is the new Theodore H. White. . . .The first 12 months of an American presidency as nonfiction melodrama. The Promise is not a campaign rehash, but a well-informed chronicle, sometimes sober, often raucous. Other books will be written about Barak Obama's time in the White House; this snapshot fo 2009 will be a durable, well-thumbed guide."
--Martin F. Nolan, San Francisco Chronicle



"A deeply reported, soberly appraised account of the president's tumultuous first months in office. . . . The book is rich in the kinds of insider detail that make for an entertaining, as well as informative, reading experience. . . . When it comes to what we've all come to call the first draft of history, The Promise is more polished, and far more thoughtful, than most. For those attempting to get a fix on a fascinating but strangely elusive chief executive, it's essential reading."
--Tim Rutten, Los Angeles Times



"The Promise offers an excellent opportunity to appraise Obama's initial efforts. Drawing on interviews with over 200 people, including the president and his top aides, Alter examines everything from the economic bailouts to the military surge in Afghanistan."
--Jacob Heilbrunn, The New York Times Book Review



"An engaging, blow-by-blow account of the infancy of the Obama presidency. . . . Manna for political junkies. . . . Thoroughly researched . . . humanizes a figure considered periodically out-of-touch even by some of his admirers."
--Carlo Wolff, The Boston Globe



"Jonathan Alter is a diligent political reporter with more sources than the Mississippi. . . . A calm, solid narrative of the people and events of the first Obama year. . . . The book offers a cascade of detail to please any follower of politics." (This review also compares Alter to the great Walter Lippmann)
--Zay N. Smith, Chicago Sun- Times



"An impressively reported, myth-debunking and timely combination of journalism and history."
--Harry Hurt III, The New York Times ("Off the Shelf" Sunday column)