A Happy Marriage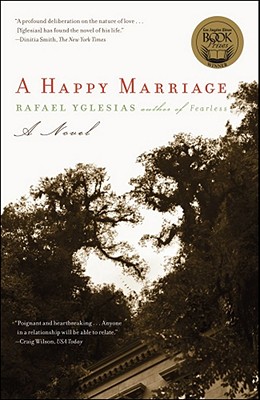 A Happy Marriage
Scribner Book Company, Paperback, 9781439102312, 384pp.
Publication Date: August 10, 2010
* Individual store prices may vary.
Buy at Local Store
Enter your zip code below to purchase from an indie close to you.
or
Buy Here
Description
"A" "Happy Marriage," Yglesias's return to fiction after a thirteen-year hiatus, was inspired by his relationship with his wife, who died in 2004. Both intimate and expansive, it is a stunningly candid novel that alternates between the romantic misadventures of the first weeks of the courtship of Enrique Sabas and his wife Margaret and the final months of her life as she says good-bye to her family, friends, and children and to Enrique. Spanning thirty years, this achingly honest story is about what it means for two people to spend a lifetime together and what makes a happy marriage. Anyone in a relationship will be able to relate, said "USA TODAY" .
Told from the husband's point of view, with revelatory and sometimes disarming candor, the novel charts the ebb and flow of marriage, illuminating both the mundane moments and the magic. Bold, elegiac, and emotionally suspenseful, Yglesias's beautiful novel will break every reader's heart while encouraging all of us with its clear-eyed evocation of the enduring value of marital love.
About the Author
Rafael Yglesias is a novelist and screenwriter, the son of writers Jose Yglesias and Helen Yglesias, who instilled in him the need to aim for psychological realism in his writing. Raised in Manhattan, he dropped out of high school to finish his first novel, "Hide Fox, and All After", which was published in 1972. After writing three novels by the age of twenty-one, he stopped writing books between 1976 and 1984 and concentrated on starting a family, making a living by writing screenplays, none of which was produced. He returned to novels in 1986 with "Hot Properties, " followed by "Only Children" in 1988, "The Murderer Next Door" in 1990, "Fearless" in 1993, and "Dr. Neruda s Cure for Evil" in 1996. He also resumed writing screenplays, with the first to be produced, "Fearless", based on his own novel. In all he has had five films produced. After the publication of "Dr. Neruda s Cure for Evil", Yglesias took another break from writing novels, mostly because of the illness and death of his wife. He returned to novels with the publication of "A Happy Marriage", an autobiographical story of his first marriage. It was awarded the 2009 "Los Angeles Times" Book Prize for Fiction and became a bestseller. His website is www.rafaelyglesias.com.
Praise For A Happy Marriage…
"[A] devastatingly raw appraisal of a nearly 30-year marriage...heart-wrenching." -- Publishers Weekly



"Rafael Yglesias's novel -- long and graceful and written to display an intimacy wincingly believable -- is about life, itself, not just one particular marriage. As the book alternates between past and present, we grow, along with the characters: as they jump boundaries, so do we; as they resign themselves to a sad inevitability, we feel viscerally cornered, too. It's a punch-in-the-stomach book, but the sharpness forces us to open our eyes wide. Impressive." -- Ann Beattie, author of Follies



"Yglesias mixes passion and pain in this deep and searing story of love. With unflinching honesty, he reveals the resilience of the human spirit in the face of illness and loss." -- Jerome Groopman, author of How Doctors Think



"A profound deliberation on the nature of love, marriage and the process of dying.... A tour de force... [Yglesias] has found the novel of his life." -- Dinitia Smith, New York Times



"Maybe marriage is the oldest story in the world, but in Mr. Yglesias' tender, funny, rueful telling, the lifelong relationship is the story of life itself." -- The Wall Street Journal



"Surprising and deeply affecting... A very brave book indeed." -- Nancy Connors, The Plain Dealer (Cleveland)



"Brave ... instantly compelling." -- Scott Muskin, Minneapolis Star-Tribune



"Beautiful... Yglesias is a superb and courageous writer.... [A] riveting portrait of enduring love, with all its grand imperfections." -- Karen Karbo, Bookforum



"Poignant and heartbreaking…. Anyone in a relationship will be able to relate."—Craig Wilson, USA Today



"Enrique and Margaret are anything but common, distinct both as characters and in the endurance of their love."—Malena Watrous, New York Times Book Review
Friday, Aug 6, 2010
Rafael Yglesias' novel is inspired by his wife, Margaret, who died in 2004. A Happy Marriage spans their three-decade relationship, from their courtship to her battle with cancer. More at NPR.org