Still Alice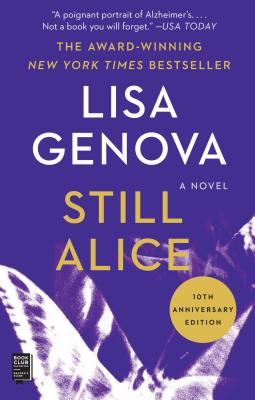 Still Alice
Pocket Books, Paperback, 9781439102817, 293pp.
Publication Date: January 6, 2009
* Individual store prices may vary.
Shop Local
Enter your zip code below to find indies closest to you.
Description
In Lisa Genova's extraordinary "New York Times" bestselling novel, an accomplished woman slowly loses her thoughts and memories to Alzheimer's disease--only to discover that each day brings a new way of living and loving. Now a major motion picture starring Julianne Moore, Alec Baldwin, Kate Bosworth, and Kristen Stewart
Alice Howland, happily married with three grown children and a house on the Cape, is a celebrated Harvard professor at the height of her career when she notices a forgetfulness creeping into her life. As confusion starts to cloud her thinking and her memory begins to fail her, she receives a devastating diagnosis: early onset Alzheimer's disease. Fiercely independent, Alice struggles to maintain her lifestyle and live in the moment, even as her sense of self is being stripped away. In turns heartbreaking, inspiring, and terrifying, "Still Alice "captures in remarkable detail what it's like to literally lose your mind...
Reminiscent of "A Beautiful Mind," "Ordinary People, " and "The Curious Incident of the Dog" "in the Night-time," "Still Alice" packs a powerful emotional punch and marks the arrival of a strong new voice in fiction.
About the Author
Lisa Genova is the author of the New York Times bestsellers Love Anthony, Left Neglected, and Still Alice. Love Anthony, her latest, is the moving story of the mother of a boy with autism. She graduated valedictorian from Bates College with a degree in Biopsychology and holds a Ph.D. in neuroscience from Harvard University. She travels worldwide, speaking about the causes, treatments, ways to prevent, and what it feels like to live with Alzheimer's Disease. She has appeared on The Dr. Oz Show, The Diane Rehm Show, CNN, Chronicle, Fox News, and Canada AM and is featured in the documentary film, To Not Fade Away. She lives with her husband and three children in Cape Cod.
Praise For Still Alice…
"Heartbreakingly real.... So real, in fact, that it kept me from sleeping for several nights. I couldn't put it down....Still Alice is a story that must be told." -- Brunonia Barry, New York Times bestselling author of The Lace Reader

"After I read Still Alice, I wanted to stand up and tell a train full of strangers, 'You have to get this book.'" -- Beverly Beckham, The Boston Globe

"This book is as important as it is impressive, and will grace the lives of those affected by this dread disease for generations to come." -- Phil Bolsta, author of Sixty Seconds

"With a master storyteller's easy eloquence, Lisa Genova shines a searing spotlight on this Alice's surreal wonderland. You owe it to yourself and your loved ones to read this book. It will inform you. It will scare you. It will change you." -- Julia Fox Garrison, author of Don't Leave Me This Way

"A work of pure genius." -- Charley Schneider, author of Don't Bury Me, It Ain't Over Yet

"A masterpiece that will touch lives in ways none of us can even imagine. This book is the best portrayal of the Alzheimer's journey that I have read." -- Mark Warner, Alzheimer's Daily News

"With grace and compassion, Lisa Genova writes about the enormous white emptiness created by Alzheimer's." -- The Improper Bostonian

"Heartbreaking." -- The Cape Cod Chronicle