More than a Game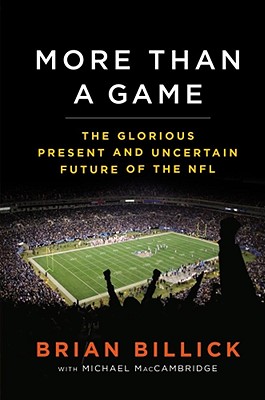 More than a Game
The Glorious Present--and the Uncertain Future--of the NFL
Scribner, Hardcover, 9781439109182, 240pp.
Publication Date: September 8, 2009
* Individual store prices may vary.
Buy at Local Store
Enter your zip code below to purchase from an indie close to you.
or
Not Currently Available for Direct Purchase
Description
An inside look at how the battle off the field affects the competition on the field of america's most popular sport—from one of the Nfl's most successful and respected head coaches.
Fresh off the sidelines from a nine-year stint as one of the most successful leaders in pro football, Super Bowl–winning head coach Brian Billick has written a book about the sport he knows and loves, giving readers a fresh perspective on America's Game. Combining his own experiences with a wealth of new interviews gained through his unsurpassed access to pro football's most influential figures, Billick has written a vibrant, compelling account of the true state of the game today, and the dangers that it faces in the near future.
The National Football League stands as perhaps America's last great mass entertainment, the rare enterprise that brings together a broad cross-section of our increasingly niche-driven marketplace. But even as the game has grown more popular, so has the financial pressure and stakes for all concerned.
In this taut, lucid breakdown of the game's inner workings, Billick shows how dynasties are built and teams assembled, and he explains in detail how the economic pressures of the modern NFL can affect coaches and players alike. Billick welcomes fans into the locker rooms and the boardrooms for a revealing portrait of pro football and a penetrating look at the forces that will vie for control of America's most popular game in the future.
About the Author
Brian Billick spent nine seasons as head coach of the Baltimore Ravens, where he led the team to a 34-7 victory over the New York Giants in Super Bowl XXXV. Prior to coaching the Ravens, he served as the offensive coordinator of the Minnesota Vikings. In 2008, he joined Fox as a commentator and the NFL Net-work as a contributor. He lives in Maryland with his wife and family.
Thursday, Feb 4, 2010
During his nine years as the coach of the Baltimore Ravens, Brian Billick led the team to a Super Bowl win in 2001. Now a commentator for Fox Sports and the NFL Network, he joins Fresh Air to discuss the upcoming Super Bowl — and the future of the NFL. More at NPR.org