The Program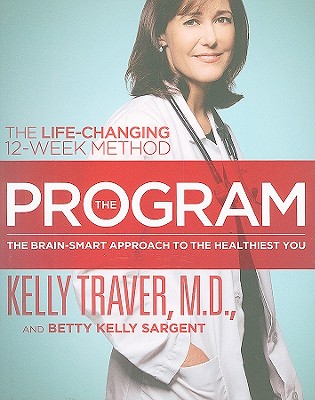 The Program
The Brain-Smart Approach to the Healthiest You: The Life-Changing 12-Week Method
Atria Books, Hardcover, 9781439109984, 385pp.
Publication Date: December 22, 2009
* Individual store prices may vary.
Not Currently Available for Direct Purchase
or
Shop Local
Enter your zip code below to purchase from an indie close to you.
Description
WHY IS THE PROGRAM DIFFERENT FROM EVERY OTHER HEALTH, DIET, AND FITNESS METHOD? BECAUSE IT WORKS.
Dr. Kelly Traver understands that the human brain resists change. Only when we learn the secrets of how to get our brain to work for us, not against us, can we make healthy, permanent lifestyle changes. She teaches us what those secrets are and shows us how to use them in this mind-expanding and waistline-shrinking system for getting into shape and staying that way.
By combining cutting-edge discoveries in neuroscience with the latest information in medicine, nutrition, and fitness, Dr. Traver developed The Program and initially tested it on her patients, who ranged in age from 20 to 81. Her results were astounding.
Among those who were overweight, the average weight loss was 19 pounds.
Among those who were diabetic, 80 percent achieved a reduction in their blood sugars.
Among those with high blood pressure, 87 percent returned their blood pressure to normal.
Some 80 percent of the smokers success-fully kicked the habit.
In the course of twelve short weeks, readers can achieve similar success by following Dr. Traver's simple, straightforward instructions for working with the stubbornly change-resistant brain so that it not only accepts new, healthy lifestyle habits but actually embraces them. Google, Target, and Stanford University have already adopted Dr. Traver's system to achieve better health for their employees. You are in the driver's seat of your health. By personalizing The Program's powerful tools you can learn to change your body and your life, simply by understanding and working with your brain.
About the Author
Kelly Traver, M.D., is the creator and CEO of The Program and Global Medical Director of Google, Worldwide. A practicing physician for eighteen years, she lives in California.
Betty Kelly Sargent is the coauthor of several books on wellness, and a journalist whose work has appeared in magazines such as "Cosmopolitan" and "Ladies' Home Journal."
Susan B. Roberts, Ph.D., a professor of nutrition and a professor of psychiatry at Tufts University, is an internationally recognized expert on nutrition and obesity who has appeared on "The Today Show", "ABC News", "NPR" and "CNN". She is the author of "Feeding Your Child for Lifelong Health", as well as nearly 200 research articles published in scientific journals including "The New England Journal of Medicine", "Lancet", and "JAMA". Dr. Roberts lives with her husband and daughter outside Boston.
Praise For The Program…
"Dr. Traver doesn't just instruct readers on how to achieve happier, healthier lives, she provides compelling evidence for why her methods work." -- Dr. Mark Hyman, bestselling author of The UltraMind Solution and UltraMetabolism

"I've seen our employees lose 40+ pounds, get off their blood pressure and diabetes medications, figure out their sleep problems, reduce stress, and more. The Program really works!" -- Dagan McLennan, RN, Wellness Center, Google

"Dr. Traver's The Program is opening the next frontier of medicine with its smart, simple, and science-based approach to protecting your health." -- Bradley A. Perkins, M.D., executive vice president for strategy and innovation at Vanguard Health Systems

"This is a tipping point book: it shows us how to get beyond sick care to doable healthy living." -- Bob Johansen, bestselling author of Get There Early and Leaders Make the Future

"This no-nonsense, evidence-based approach can transform lives by teaching people how to do what they know they should, but is so increasingly difficult to practice in the modern world." -- J. Nick Baird, M.D., CEO, Alliance to Make US Healthiest

"Wow! What an undertaking! The Program provides just the right mix of what, why, and how for readers interested in improving their health and well-being." -- Cathy Heaney, Ph.D., Stanford Prevention and Research Center

"Simply wonderful. Reading The Program somehow reminded me of reading Shakespeare. Each page is so laden with verities that a slow read is mandated. So, read slow and thrive." -- Walter M. Bortz II, M.D., bestselling author of Dare to Be 100 and We Live Too Short and Die Too Long