The Bro Code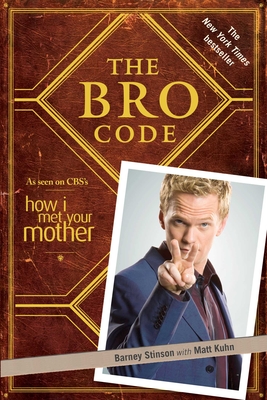 The Bro Code
Fireside Books, Paperback, 9781439110003, 195pp.
Publication Date: October 14, 2008
* Individual store prices may vary.
Buy Now
or
Shop Local
Enter your zip code below to purchase from an indie close to you.
Description
From the hit TV show "How I Met Your Mother" comes Barney Stinson's words of wit, wisdom, and awesomeness, "The Bro Code--"the "New York Times" bestseller (really ) with more than a million copies in print all around the world.
Everyone's life is governed by an internal code of conduct. Some call it morality. Others call it religion. But Bros in the know call this Holy Grail "The Bro Code."
"The Bro Code" is a living document, much like the Constitution. Except instead of outlining a government, or the Bill of Rights, or anything even resembling laws, "The Bro Code" provides men with all the rules they need to know in order to become a "bro" and behave properly among other bros. Historically a spoken tradition passed from one generation to the next and dating back to the American Revolution, the official code of conduct for Bros appears here in its published form for the first time ever. By upholding the tenets of this sacred and legendary document, any dude can learn to achieve Bro-dom.
Containing approximately 150 "unspoken" rules, this code of conduct for bros can range from the simple (bros before hos) to the complex (the hot-to-crazy ratio, complete with bar graphs and charts). With helpful sidebros "The Bro Code" will help any ordinary guy become the best bro he can be. Let ultimate bro and coauthor Barney Stinson and his book, "The Bro Code" share their wisdom, lest you be caught making eye contact in a devil's three-way (two dudes, duh).
About the Author
Neil Patrick Harris's stage credits include productions of Sweeney Todd, Romeo and Juliet, and Rent. On TV, he starred in Doogie Howser, M.D. and currently appears in How I Met Your Mother. His film work includes Clara's Heart, The Next Best Thing, and Starship Troopers.

Matt Kuhn is a staff writer for the CBS hit show How I Met Your Mother" and also produces Barney s Blog for the show s website. He lives in Los Angeles, California, which is conveniently where he works.