The Time Traveler's Guide to Medieval England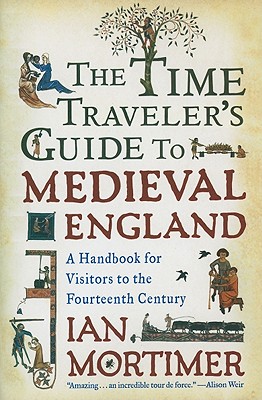 The Time Traveler's Guide to Medieval England
A Handbook for Visitors to the Fourteenth Century
Touchstone Books, Hardcover, 9781439112892, 342pp.
Publication Date: December 29, 2009
* Individual store prices may vary.
Shop Local
Enter your zip code below to find indies closest to you.
Description
The past is a foreign country. This is your guidebook.
A time machine has just transported you back to the fourteenth century. What do you see? How do you dress? How do you earn a living and how much are you paid? What sort of food will you be offered by a peasant or a monk or a lord? And more important, where will you stay?
"The Time Traveler's Guide to Medieval England" is not your typical look at a historical period. This radical new approach shows us that the past is not just something to be studied; it is also something to be lived. All facets of everyday life in this fascinating period are revealed, from the horrors of the plague and war to the ridiculous excesses of roasted larks and medieval haute couture.
Through the use of daily chronicles, letters, household accounts, and poems of the day, Mortimer transports you back in time, providing answers to questions typically ignored by traditional historians. You will learn how to greet people on the street, what to use as toilet paper, why a physician might want to taste your blood, and how to know whether you are coming down with leprosy.
From the first step on the road to the medieval city of Exeter, through meals of roast beaver and puffin, Mortimer re-creates this strange and complex period of history. Here, the lives of serf, merchant, and aristocrat are illuminated with re-markable detail in this engaging literary journey. The result is the most astonishing social history book you're ever likely to read: revolutionary in its concept, informative and entertaining in its detail, and startling for its portrayal of humanity in an age of violence, exuberance, and fear.
About the Author
Ian Mortimer is the author of the bestselling The Time-Traveller's Guide to Medieval England. He holds BA, PhD and DLitt degrees from the University of Exeter and an MA in archive studies from UCL. He is a Fellow of the Royal Historical Society (by whom he was awarded the Alexander Prize in 2004), and has worked for the Historical Manuscripts Commission and the universities of Exeter and Reading. Among his other publications are a series of four interlinked historical biographies collectively covering English politics 1300-1415 and a revolutionary study of medicine in seventeenth-century England.
Praise For The Time Traveler's Guide to Medieval England…
"In this compelling volume, Mortimer transports his readers. . . . Gives readers a seamless sense of being there. . . . An impressive accomplishment, turning 600 years of history transparent to give 21st-century readers a clear view of medieval life." –Publishers Weekly

"Mortimer addresses every aspect of medieval life, from the mundane to the bizarre. . . . Travel guides are designed to deliver helpful information about faraway places, but this one gets to the heart of a different time zone." –The Washington Post

"Chock-full of surprises, this is exceptional social history, compellingly told; there should be 'travel books' like this for every century. Start reading, and you won't want to stop." –Library Journal

"The endlessly inventive Ian Mortimer is the most remarkable medieval historian of our time." --The Times (UK)