Cookin' with Coolio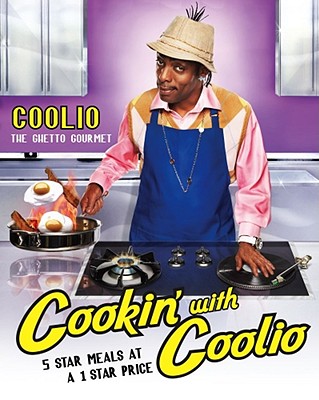 Cookin' with Coolio
5 Star Meals at a 1 Star Price
Atria Books, Paperback, 9781439117613, 202pp.
Publication Date: November 17, 2009
* Individual store prices may vary.
Buy Now
or
Shop Local
Enter your zip code below to purchase from an indie close to you.
Description
THERE'S ONLY ONE THING THAT COOLIO'S BEEN DOING LONGER THAN RAPPING: COOKING
Coolio started making thirty-minute meals when he was ten years old and has since developed a whole new cuisine: Ghetto Gourmet. His recipes are built around solid comfort foods with a "healthy twist" that don't break the bank. Start your Ghetto Gourmet adventure with some "Soul Rolls," follow-up with "Finger-Lickin', Rib-Stickin', Fall-Off-the-Bone-and-into-Your-Mouth Chicken," and fi nish off with "Banana Ba-ba-ba-bread" sweetened with golden honey. Chapters such as "How to Become a Kitchen Pimp," "Chillin' and Grillin'," and "Pasta Like a Rasta" will guide you through creating 5 star meals at a 1 star price. You can't fi nd fusions like Blasian (black Asian) or Ghettalian (ghetto Italian) in restaurants, but you can have them cooking away in your kitchen faster and easier than ordering takeout. As Coolio says, "All you need is a little bit of food, and a little bit of know-how.
About the Author
Coolio, the multi-talented Grammy Award winning and multi-platinum selling artist, composer and actor, is one of the most popular and successful rappers worldwide. To date, Coolio has sold over 27 million records globally and has performed in concerts to adoring fans in Africa, Israel, Russia, Japan, Thailand, Brazil, Australia, Turkey and throughout Europe. In the diversified hip hop industry, Coolio is one of the few rap artists who has been able to garner mainstream success and critical acclaim. His reality show "Coolio's Rules, "which debuted on the Oxygen Network in October 2008, featured his catering business and continued where his internet TV hit "Cookin' with Coolio" left off.