A Mountain of Crumbs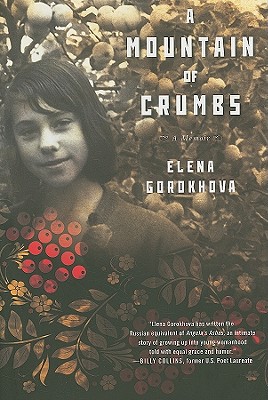 A Mountain of Crumbs
Simon & Schuster, Hardcover, 9781439125670, 308pp.
Publication Date: January 12, 2010
* Individual store prices may vary.
Buy at Local Store
Enter your zip code below to purchase from an indie close to you.
or
Not Currently Available for Direct Purchase
Description
Elena Gorokhova grows up in 1960's Leningrad, where she discovers that beauty and passion can be found in unexpected places in Soviet Russia.
"A Mountain of Crumbs" is the moving story of a young Soviet girl's discovery of the hidden truths of adulthood and her country's profound political deception.
Elena, born with a desire to explore the world beyond her borders, finds her passion in the complexity of the English language -- but in the Soviet Union of the 1960s, such a passion verges on the subversive. Elena's home is no longer the majestic Russia of literature or the tsars. Instead, it is a nation humiliated by its first faltering steps after World War II, putting up appearances for the sake of its regime and fighting to retain its pride.
In this deeply affecting memoir, Elena re-creates the world that both oppressed and inspired her. She recounts stories passed down to her about the horrors of the Bolshevik Revolution and probes the daily deprivations and small joys of her family's bunkerlike existence. Through Elena's captivating voice, we learn not only the personal story of Russia in the second half of the twentieth century, but also the story of one rebellious citizen whose love of a foreign language finally transports her to a new world.
About the Author
Elena Gorokhova grew up in St. Petersburg, Russia, although for most of her life it was known to her as Leningrad. At the age of twenty-four she married an American and came to the United States with only a twenty kilogram suitcase to start a new life. The bestselling author of "A Mountain of Crumbs" and "Russian Tattoo", she has a Doctorate in Language Education and currentlylives in New Jersey. Her work has appeared in "The New York Times", "The Daily Telegraph", on BBC Radio, and in a number of literary magazines.
Praise For A Mountain of Crumbs…
A January 2010 Indie Next Pick
One of O Magazine's 10 to Watch For, February 2010
One of the Christian Science Monitor's 10 Best Mother's Day Books, 2010



"[A] witty, illuminating book . . . with telling detail, and a winning balance of affection, insight and satiric bite."
—Misha Berson, The Seattle Times



"Elena Gorokhova reveals with beautiful writing the panic of growing up inside the secrecy of Brezhnev's Soviet Union. . . . Even if Elena Gorokhova weren't such a gorgeous writer, her memoir, "A Mountain of Crumbs," would be a terrific read. . . . She writes with irony and subtlety about the "bright future" of the Soviet Union, even as she plans her exodus. What makes this book so remarkable, though, is Gorokhova's evocative and sensuous writing."
—Laurie Hertzel, The Star-Tribune (Minneapolis-St. Paul)



"A moving memoir about one woman's journey from the Soviet Union . . . Captivating."
—The Daily Beast



"Artful memoir about the angst and joys of growing up behind the Iron Curtain. . . . Articulate, touching and hopeful."
—Kirkus Reviews



"Extraordinarily rich in sensory and emotional detail . . . An engrossing portrait of a very lively, intelligent girl coming of emotional and intellectual age in the post-Stalinist Soviet Union."
—Bookpage



"Wry . . . both comic and anguished . . . but never cold or simple."
—Booklist



"Three pages into this beautifully crafted memoir and you know that Gorokhova has always been a writer. . . . the kind that envelops and transports you and every so often leaves you breathless. . . . Recounted in shimmering detail."
—Bill Ervolino, The Bergen Record (New Jersey)


"Gorokhova has the reader in the palms of her hands. . . . Stellar . . . This compelling and unusual tale . . . is inherently captivating."
—Christine Thomas, The Miami Herald



"Exquisitely lyrical . . . Every page of Elena Gorokhova s coming-of-age-in-the-Soviet-bloc memoir unveils the magic of her origins. . . . Stunning."
—Anne Grant, Providence Journal-Bulletin (RI)