Rain Gods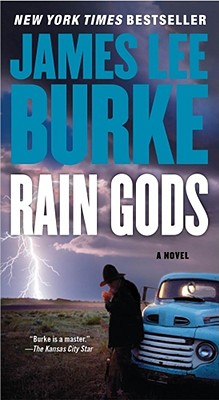 Rain Gods
Pocket Star, Mass Market Paperbound, 9781439128305, 688pp.
Publication Date: May 25, 2010
* Individual store prices may vary.
Buy at Local Store
Enter your zip code below to purchase from an indie close to you.
or
Buy Here
Description
"America's best novelist" (The Denver Post ) brings back one of his most fascinating characters-- Texas sheriff Hackberry Holland, cousin to lawman Billy Bob Holland--in this heart-pounding bestseller.
In a heat-cracked border town, the bodies of nine illegal aliens--women and girls, killed execution-style--are unearthed in a shallow grave. Haunted by a past he can't shake and his own private demons, Hack attempts to untangle the grisly case, which may lead to more bloodshed. Damaged young Iraq vet Pete Flores, who saw too much before fleeing the crime scene, and his girlfriend, Vikki Gaddis, are running for their lives. Sorting through the lowlifes who are hunting down Pete, and with Preacher Jack Collins, a Godfearing serial killer for hire, in the mix, Hack is caught up in a terrifying race for survival--for Pete, Vikki, and himself.
Praise For Rain Gods…
"If James Lee Burke has the deepest regional voice in the genre -- and I do believe that's so -- it's because he understands those feelings that keep people connected to the places where they have, or once had, roots...Preacher is one of Burke's most inspired villains..."—Marilyn Stasio, New York Times Book Review



"As always, Burke's portrayal of the ugliness of human behavior set against the higher moral standards of those who fight evil is irresistible."—USA Today



"Rain Gods is Burke's most intricately plotted crime novel yet... And as always in a James Lee Burke novel, one of the main characters is the landscape itself, lovingly described in lyrical passages..."—Associated Press



"Burke is a deliberate storyteller; he doesn't skimp on the action, but his exploration of human foibles is deep, and his characters are true...Rain Gods is about catching the bad guys, but it's also a moving, melancholy examination of how we do wrong, then try our best to atone."—Connie Ogle, Miami Herald



"...Rain Gods is its own stylish slice of contemporary Texas noir."—Los Angeles Times



"...there's something so winning about Hackberry Holland, something so perfect for the times in which we're reading...anger and bitterness fuel a fair amount of James Lee Burke's fiction, showing how the best and the worst of us are driven by demons -- the memories of bad family history; of wars past and present; the pull of the bottle; the furious engine that drives some to desire money or power, by whatever means; the slow, seeping poison of grief and regret. In Rain Gods, Burke once again renders the cautionary tale he has perfected over 28 books."—Susan Larson, New Orleans Times Picayune



"…totally riveting…"—New York Daily News



"…colorful prose, venal characters, haunted landscape, total entertainment."—San Diego Union Tribune



"James Lee Burke has written a riveting novel with broad sociological and biblical themes that evoke past American greats, such as Steinbeck and Cain."—Lincoln Star Journal



"...readers will find some of the best and most memorable prose of Burke's career...It is the narrative...that is the biggest strength of this character-driven novel. Burke is at heart a poet capable of describing the light and the dark in equal measures of the beautiful and horrific, one who can both gradually illuminate the darkness and cast dark shadows across the sun, often within the space of a single short paragraph. Rain Gods is a work of deep, violent and, yes, beautiful magic, a wondrous manifestation of one of our best American authors becoming even better, as improbable and impossible as that may seem."—Joe Hartlaub, Bookreporter.com