Between Planets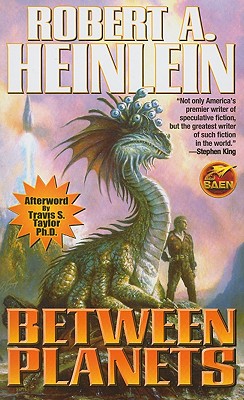 Between Planets
Baen Books, Mass Market Paperbound, 9781439133217, 274pp.
Publication Date: September 28, 2009
* Individual store prices may vary.
Not Currently Available for Direct Purchase
or
Shop Local
Enter your zip code below to purchase from an indie close to you.
Description
A Sweeping Story of Interplanetary War.
The Grand Master of Science Fiction.
"One of the most influential writers in American literature." --"The New York Times Book Review."
Don Harvey was attending school on Earth when his parents suddenly and urgently called him home to Mars. He had been skeptical about the talk of interplanetary war breaking out if Mars and Venus followed through on their threats to declare independence from Earth, but he was wrong. War broke out, and he was stuck on Venus, with no way of getting home.
Then there was the ring that an old family friend had given him just before he had left Earth. Shortly afterward, the friend had been questioned by Earth's secret police and had died--from "heart failure," they claimed. When Earth troops landed on Venus and started looking for Don and that mysterious ring, he realized that he was trapped in the center of a war between worlds that could change the fate of the Solar System forever.
About the Author
Robert A. Heinlein (1907 1988) is widely recognized as one of the greatest science fiction authors of all time, a status confirmed in 1974 when the Science Fiction and Fantasy Writers of America gave him their first Grand Master Award for lifetime achievement. A four-time Hugo Award winner, Heinlein is best known for works including Starship Troopers, The Moon Is a Harsh Mistress, and the sensational bestseller Stranger in a Strange Land.
Dr. Travis S. Taylor has worked on various programs for the Department of Defense and NASA for the past twenty years. His expertise includes advanced propulsion concepts, very large space telescopes, space based beamed energy systems, future combat technologies, and next generation space launch concepts. Taylor is also the author of pulse-pounding, cutting edge science fiction novels such as the highly-popular "One Day on Mars, Tau Ceti Agenda" and his ground-breaking "Warp Speed" series and a regular on the History Channel's "Life After People "and "The Universe "series.
Les Johnson is a NASA physicist and author.? By day, he serves as the Deputy Manager for the Advanced Concepts Office at the?NASA George C. Marshall Space Flight Center in Huntsville, Alabama.? In the early 2000s, he was NASA's Manager for Interstellar Propulsion Research and later managed the In-Space Propulsion Technology Project. He was technical consultant for the movie "Lost in Space" and has appeared on the Discovery Channel series, ?Physics of the Impossible? in the ?How to Build a Starship? episode.""He has also appeared in three episodes of the Science Channel series "Exodus""Earth". In his spare time he writes popular science books and articles, including "Solar Sails: A Novel Approach to Interplanetary Travel", "Living Off the Land in Space: Green Roads to the Cosmos" and "Paradise Regained: The Regreening of Earth".