Saltation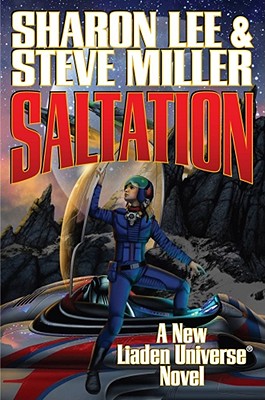 Saltation
Baen, Hardcover, 9781439133453, 336pp.
Publication Date: April 1, 2010
* Individual store prices may vary.
Not Currently Available for Direct Purchase
or
Shop Local
Enter your zip code below to purchase from an indie close to you.
Description
Theo Waitley is a Nexus of Violence
Thrust mid-year into a school for pilots far from the safe haven of her birth home on scholarly Delgado, young Theo Waitley excels in hands-on flying while finding that she's behind the curve in social intricacies as well as in math.
After surviving a mid-air emergency with a spectacular mountain-top landing in her training soar plane Theo's notoriety brings her attention from local thugs as well as a gift from Win Ton, a scout pilot she enjoyed a flirtation with on her first space voyage. When Win Ton appears on campus Theo throws herself into a relationship even as he's on his way to a Liaden marriage-bed.
Meanwhile her mentors try to guide her studies and training into the channels best suited to her special abilitiesand inclinations, including suggesting that she should joim in the off-world studenty association, a plan resulting in mixed success. After a series of confrontations, fights, and ultimately a riot after which she is thanked for not killing anyone, Theo is named a "nexus of violence" by the school's administration.
Facing suspension and carrying little more than hastily procured guild card, a pistol taken from an attacker, and the contents of her pants pockets, Theo must quickly decide if she's ready to return to Delgado in disgrace, or launch herself into the universe as a freelance pilot with credentials she's already earned.
Praise for the Liaden Universe series:
"Every now and then you come across an author, or in this case, a pair, who write exactly what you want to read, the characters and personalities that make you enjoy metting them.... I rarely rave on and on about stories, but I am devoted to Lee and Miller novel stories."- Anne McCaffrey
"These authors consistently deliver stories with a rich, textured setting, intricate plotting, and vivid, interesting characters from fully-realized cultures, both human and alien, and eachbook gets better."- Elizabeth Moon
About the Author
Sharon Lee and Steve Miller live in the rolling hills of Central Maine with two insistent muses in the form of cats and a large cast of characters. The husband-and-wife team's collaborative work in science fiction fantasy include twelve novels and numerous short stories in their award-winning Liaden Universe. In additon to their collaborative work, Steve has seen short stories, nonficition, and reviews published under his name, while Sharon has seen published short stories, newspaper pieces, and two mystery novels.
Steve was the founding curator of the University of Maryland's Kuhn Library Science Fiction Research collection and a fromer Nebula juror. For five years, Sharon served the Science Fiction and Fantasy Writers of America, consecutively as Executive Director, Vice President and President. Sharon's interests include music, seashores and pine cones. Steve also enjoys music, plays tournament chess, and collects cat whiskers.