Grand Central Arena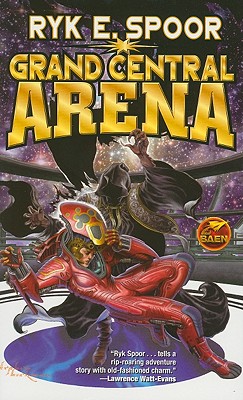 Grand Central Arena
Baen Books, Mass Market Paperbound, 9781439133552, 671pp.
Publication Date: April 27, 2010
* Individual store prices may vary.
Buy Now
or
Shop Local
Enter your zip code below to purchase from an indie close to you.
Description
It Was Supposed to be a Routine Test of a New Ship but They Landed in a Alien Arena Where the Stakes Were Life or Death. A New Paperback Original by the Co-Author of "Boundary."
It was supposed to be a simple test flight, one that pilot Ariane Austin was on only as a last-ditch backup; intelligent, superhumanly fast automation would handle the test activation and flight of humanity's first faster-than-light vessel. But when the Sandrisson Drive activated, every automated system crashed, the nuclear reactor itself shut down, and only the reflexes and training of a racing pilot saved the test vessel "Holy Grail" from crashing into the impossible "wall" that had appeared before them, a wall which is just part of a monstrous enclosure surrounding a space twenty thousand kilometers across. With all artificial intelligences inert and their reactor dead, they had to find some other source of power to reactivate the Sandrisson Drive and hopefully take them home.
And that was only the beginning. As Ariane, Dr. Simon Sandrisson, darkly enigmatic power engineer Marc C. DuQuesne, and the rest of the" Holy Grail"'s crew explore the immense artifact, they discover that they are not alone; they have entered a place the alien inhabitants call The Arena, and there is no way out without joining one of the alien factions . . . or winning recognition as a faction in their own right, playing by the Arena's rules and by the Arena's rules, one failed challenge could mean death or worse perhaps for the entire human race.
Surrounded by alien factions, each with its own secret plans and motivations, some wielding powers so strange as to be magical, Ariane sets out to beat the Arena at its own game. With DuQuesne's strategies, Sandrisson's genius, and her own unyielding determination, she's going to bring the "Holy Grail" home even if she has to beat every faction in the Arena to do it

About the Author
Ryk E. Spoor was born in Omaha, Nebraska, and has since lived in South Dakota, Georgia, Pennsylvania, and New York. A fan of Oz from the time he was 6, Ryk collected all of the Baum Oz books and read them repeatedly, never forgetting them even when he graduated to the epic fantasy of Tolkien, the space opera of Doc Smith, the harder SF of Heinlein, Asimov, and Clement, and later becoming a computer geek, a gamer, and an anime fan. Along this fannish journey, Ryk also accumulated a few degrees (in Mathematics and Science, Psychology, and Information Science) and worked in various locations. He also met, dated, and married his wife Kathleen Moffre-Spoor, and they now have four children - all of whom have been introduced to Oz, among other stories of his youth. In 2000, Ryk cleverly attracted the attention of Baen Books by insulting the work of one of its editors, Eric Flint, online; this eventually led to the publication of his first book, Digital Knight, in 2003. With the publication of Polychrome Ryk E. Spoor enters the realm of self-publication; Polychrome is his eleventh book overall. He now lives in Troy, NY, with his family, one poodle, and a flock of chickens.