The Rolling Stones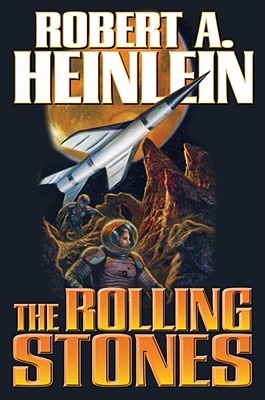 The Rolling Stones
Baen Books, Mass Market Paperbound, 9781439133569, 309pp.
Publication Date: April 27, 2010
* Individual store prices may vary.
Shop Local
Enter your zip code below to find indies closest to you.
Description
One of Heinlein's Best-Loved Works. By "One of the most influential writers in American literature." --The New York Times Book Review."
The rollicking adventures of the Stone Family on a tour of the Solar System. It all statred when the twins, Castor and Pollux Stone, decided that life on the Lunar colony was too dull and decided to buy their own spaceship and go into business for themselves. Their father thought that was a fine, idea, except that he and Grandma Hazel bought the spaceship and the whole Stone Family were on their way out into the far reaches of the Solar System, with stops on Mars(where the twins got a lesson in the interplanetary economics of bicycles and the adorable little critters called flatcats who, it turned out, bred like rabbits; or perhaps, Tribbles....), out to the asteroids, where Mrs. Stone, an M.D., was needed to treat a dangerous outbreak of disease, even further out, to Titan and beyond.
Unforgettable Heinlein characters on an unforgettable adventure.

"Not only America's premier writer of speculative fiction, but the greatest writer of such fiction in the world."
- Stephen King
Comprehensive Teacher's Guide available.
About the Author
Robert A Heinlein is considered one of the Big Three of classic science fiction (along with Isaac Asimov and Arthur C. Clarke). Heinlein is a seven-time Hugo Award recipient and was given the first Grand Master Nebula Award for lifetime achievement. Heinlein s juveniles alone have influenced generations of scientists, engineers and creators the world over (for instance, it was once estimated that everyone in the Apollo 11 mission control room had read and loved at least one Heinlein novel). His worldwide bestsellers include Have Space Suit Will Travel, Stranger in a Strange Land, Starship Troopers, Time Enough for Love, and The Moon Is a Harsh Mistress.