The Puppet Masters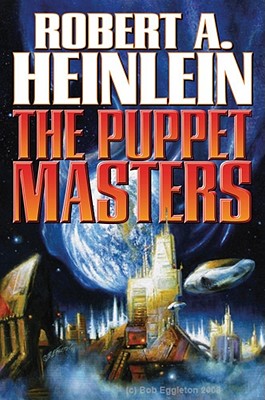 The Puppet Masters
Baen Books, Mass Market Paperbound, 9781439133767, 407pp.
Publication Date: July 27, 2010
* Individual store prices may vary.
Not Currently Available for Direct Purchase
or
Shop Local
Enter your zip code below to purchase from an indie close to you.
Description
Now in Mass Market. An Epic Battle Against Mind-Controlling Alien Invaders as Only Robert A. Heinlein, the Best-Selling Grand Master of Science Fiction, Could Tell It. "One of the most influential writers in American literature." --"The New York Times Book Review."
First came the news that a flying saucer had landed in Iowa. Then came the announcement that the whole thing was a hoax. End of story. Case closed.
Except that two agents of the most secret intelligence agency in the U.S. government were on the scene and disappeared without reporting in. And four more agents who were sent in also disappeared. So the head of the agency and his two top agents went in and managed to get out with their discovery: an invasion is underway by slug-like aliens who can touch a human and completely control his or her mind. What the humans know, they know. What the slugs want, no matter what, the human will do. And most of Iowa is already under their control.
Sam Cavanaugh was one of the agents who discovered the truth. Unfortunately, that was just before he was taken over by one of the aliens and began working for the invaders, with no will of his own. And he has just learned that a high official in the Treasury Department is now under control of the aliens. Since the Treasury Department includes the Secret Service, which safeguards the President of the United States, control of the entire nation is near at hand .
About the Author
Robert A. Heinlein (1907 1988) is widely recognized as one of the greatest science fiction authors of all time, a status confirmed in 1974 when the Science Fiction and Fantasy Writers of America gave him their first Grand Master Award for lifetime achievement. A four-time Hugo Award winner, Heinlein is best known for works including Starship Troopers, The Moon Is a Harsh Mistress, and the sensational bestseller Stranger in a Strange Land.

Sarah de Almeida Hoyt was born in Porto, Portugal, and devoted a good portion of her misspent adolescence reading Shakespeare and Shakespearean biography. She eventually paid enough attention to real life to earn a Master's in Languages and Literature and acquire a husband and two children. Currently she lives in Colorado with her family and a growing number of cats. Her works of short fiction have been published in Analog, Fantastic, Absolute Magnitude and Weird Tales. News and updates about her work can be found at sarahahoyt.com.