Cryoburn [With CDROM]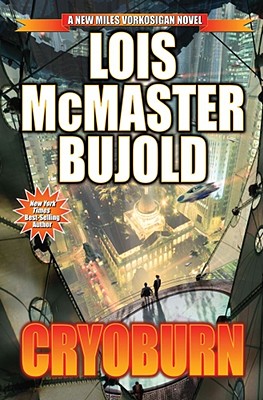 Cryoburn [With CDROM]
Baen Books, Hardcover, 9781439133941, 345pp.
Publication Date: October 19, 2010
* Individual store prices may vary.
Not Currently Available for Direct Purchase
or
Shop Local
Enter your zip code below to purchase from an indie close to you.
Description
"New York Times" Best-Selling Author.
The Long-Awaited New Installment in the Popular and Award-Winning Vorkosigan Series. Starring the Explosively Charismatic Miles Vorkosigan.
Miles Vorkosigan is back
Kibou-daini is a planet obsessed with cheating death. Barrayaran Imperial Auditor Miles Vorkosigan can hardly disapprove--he's been cheating death his whole life, on the theory that turnabout is fair play. But when a Kibou-daini cryocorp--an immortal company whose job it is to shepherd its all-too-mortal frozen patrons into an unknown future--attempts to expand its franchise into the Barrayaran Empire, Emperor Gregor dispatches his top troubleshooter Miles to check it out.
On Kibou-daini, Miles discovers generational conflict over money and resources is heating up, even as refugees displaced in time skew the meaning of "generation" past repair. Here he finds a young boy with a passion for pets and a dangerous secret, a Snow White trapped in an icy coffin who burns to re-write her own tale, and a mysterious crone who is the very embodiment of the warning "Don't mess with the secretary." Bribery, corruption, conspiracy, kidnapping--something is rotten on Kibou-daini, and it isn't due to power outages in the Cryocombs. And Miles is in the middle--of trouble
"Fresh, intriguing, and, as always with Lois McMaster Bujold, superb." --Robert Jordan
"It is such a delight to read something by such a good writer, who now seems to be writing at the height of her powers. . . . I really have seldom enjoyed a book so much . . . I couldn't turn the pages fast enough." --Diana Wynne Jones
"Living breathing characters who inhabit unusual yet believable worlds." --Jean Auel
"Bujold successfully mixes quirky humor with just enough action, a dab of feminist social commentary and her usual superb character development . . . enormously satisfying." --"Publishers Weekly"
"One of sf's outstanding talents . . . an outstanding series." --"Booklist"
"Excellently done . . . Bujold has always excelled at creating forceful characters and she does it here again." --"Denver"" Post"
." . . an intelligent, well-crafted and thoroughly satisfying blend of adventure, sociopolitical commentary, scientific experiments, and occasional perils . . . with that extra spicing of romance. . . ." --"Locus.
About the Author
One of the most respected writers in the field of speculative fiction, Lois McMaster Bujold burst onto the scene in 1986 with Shards of Honor, the first of her tremendously popular Vorkosigan Saga novels. She has received numerous accolades and prizes, including two Nebula Awards for best novel (Falling Free and Paladin of Souls), four Hugo Awards for Best Novel (Paladin of Souls, The Vor Game, Barrayar, and Mirror Dance), as well as the Hugo and Nebula Awards for her novella The Mountains of Mourning. Her work has been translated into twenty-one languages. The mother of two, Bujold lives in Minneapolis, Minnesota.