In Fire Forged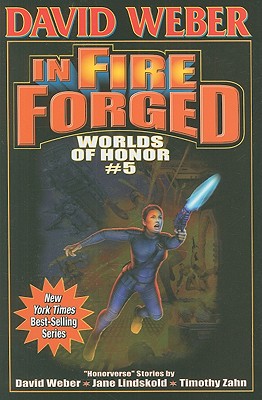 In Fire Forged
Baen Books, Hardcover, 9781439134146, 311pp.
Publication Date: February 1, 2011
* Individual store prices may vary.
Buy at Local Store
Enter your zip code below to purchase from an indie close to you.
or
Not Currently Available for Direct Purchase
Description
Welcome to the Honorverse. The "New York Times" Best-Selling Series Continues.
3.8 Million Honor Harrington Books in Print
Over 7 Million David Weber Books in Print
18 "New York Times "Best Sellers from Baen Plus Five More from Tor.
Honor Harrington is arguably the most popular character in modern science fiction, but there are many other stories in the Honorverse besides those in which she has the central role. This fifth volume in the popular Worlds of Honor series explores some of those stories with the help of such top writers as best-selling author Jane LIndskjold, "New York Times" best-selling author Timothy Zahn, and more including an all-new Honor Harrington adventure, set in her younger years, when a mob of space pirates made the mistake of tangling with Commander Harrington. That was a fatal mistake for the pirates . . .

"Praise for the hottest series in military science fiction: "
Nobody does space opera better than Weber, and his heroine, Honor Harrington . . . like a fusion of Horatio Hornblower, Robert A. Heinlein and Tom Clancy. . . . "Publishers Weekly" (starred review)
"At All Costs" is] a fast-paced tale that brings together all the elements developed in previous books, and pushes them a good way along toward an ultimate conclusion. . . . "Booklist" (starred review)

Brilliant Brilliant Brilliant . . . unequivocally superb Anne McCaffrey on Weber's "Echoes of Honor"

Great stuff . . . compelling combat combined with engaging characters for a great space opera adventure. "Locus.
About the Author
David Weber is a science fiction phenomenon. His popular Honor Harrington and Honorverse novels including "Mission of Honor", "At All Costs", and "Torch of Freedom" are "New York Times" bestsellers and can't come out fast enough for his devoted readers. He is also the author of the Safehold series, including "Off Armageddon Reef", "By Schism Rent Asunder", "By Heresies Distressed" and "A Mighty Fortress". His other top-selling science fiction novels include "Out of the Dark", the Dahak books and the Multiverse books, written with Linda Evans. He has also created an epic SF adventure series in collaboration with John Ringo, including "We Few". His novels have regularly been Main Selections of the Science Fiction Book Club. Weber has a bachelor s degree from Warren Wilson College, and attended graduate school in history at Appalachian State University. He lives in South Carolina.