Spiritual Simplicity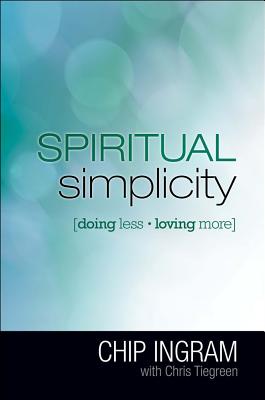 Spiritual Simplicity
Doing Less, Loving More
Howard Books, Hardcover, 9781439138274, 194pp.
Publication Date: January 8, 2013
* Individual store prices may vary.
Buy at Local Store
Enter your zip code below to purchase from an indie close to you.
or
Buy Here
Description
Pastor Chip Ingram shows that the answer to our culture's craving for simplicity and peace lies not simply in doing less but in loving more.
"Changing Love from a Noun to a Verb"
In our frantically driven, complex lifestyle, we suffer from fatigue, little margin, shallow relationships, and fractured families. As a result of this driven lifestyle, our souls are dis-eased they have a lack of ease. This highly practical, comforting book maintains that it is possible to run the race at a different, more meaningful speed. Not only is it possible; it's absolutely necessary.
The key to simplifying life, Chip Ingram says, is to make sure love is your #1 priority. Love redirects our focus and unravels the complex, overextended lifestyle that keeps us ever running but never arriving. In Spiritual Simplicity, Ingram explains how to change our love from a noun to a verb and choose to concentrate on what really matters: the people we love the most.
Each chapter ends with probing questions to help you process, ponder, and discuss the life-giving principles laid out in this desperately needed book.
***
If you crave simplicity, yearn for peace and calm, this book is for you. Through biblical teaching and practical insights, author Chip Ingram goes beyond so-called quick fixes and speaks to men and women who know what they need to do, want desperately to do it, but find it next to impossible to break free of the too many good and important things that flood their lives.
The thesis of this book is very simple: Spiritual simplicity will never be achieved by strategic, managerial attempts to control our lives and schedules but through doing less because we love more. As you learn the practice of loving people, you will experience a shift from complex to simple, from hurried to peaceful, from never enough time to time enough for those you love. Lasting change is within your reach.
About the Author
Chip Ingram is president and CEO of Walk Thru the Bible. He is a graduate of Dallas Theological Seminary and the author of seven books. Chip and his wife, Theresa, have four adult children and seven grandchildren

Chris Tiegreen is a writer and editor for Walk Thru the Bible's "Indeed" devotional magazine, which has won the EPA Award of Excellence in the devotional category for two consecutive years. His first book, At His Feet, was a Gold Medallion award finalist in the same category. Chris has served as a pastor, church planter, and missionary, and has been a university instructor in international politics. Chris and his wife, Hannah, live near Atlanta, Georgia.
Praise For Spiritual Simplicity…
"A lot of books give long checklists of things to do that can decrease stress and increase productivity. Chip's book, however, challenges that mentality by suggesting one thing: reorient your life around love. The result is a life whose priorities are so radically rearranged that the goal is actually achieved."

-Dave Stone Pastor of Southeast Christian & Author of the Fait