Finding Chandra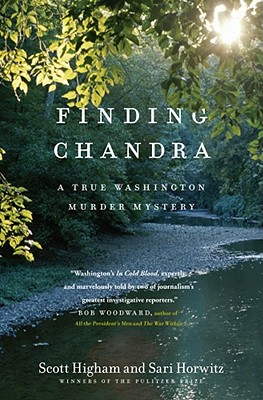 Finding Chandra
A True Washington Murder Mystery
Scribner, Hardcover, 9781439138670, 304pp.
Publication Date: May 11, 2010
* Individual store prices may vary.
Buy at Local Store
Enter your zip code below to purchase from an indie close to you.
or
Not Currently Available for Direct Purchase
Description
It was the mystery that gripped the nation during the summer of 2001: the sudden disappearance of Chandra Levy, a young, promising intern, and the possible involvement of Congressman Gary Condit. And then the case went cold. By 2007, satellite trucks and reporters had long since abandoned the story of the congressman and the intern in search of other news, fresh scandals. Across the country, Chandra's parents tried to resume their daily lives, desperately hoping that someday there might be a break in the investigation.
And in Washington, the old game of who's up and who's down played on without interruption.
But Chandra Levy haunted. Six years after the young intern's disappearance, investigative editors of the Washington Post pitched two Pulitzer Prize– winning reporters their idea: Revisit the unsolved case and find out what happened to Chandra, a task that had eluded police and the FBI.
Scott Higham and Sari Horwitz went to work. e result was a thirteen-part series in the Washington Post that focused on a prime suspect the police and the FBI had passed over years before. They had wrongly pursued Condit and chased numerous false leads, including a claim that Chandra had been kidnapped and taken to the Middle East.
But the most likely culprit was far less glamorous: an immigrant from El Salvador, a young man in the clutches of alcohol, drugs, and violence who had been stalking the running paths of Rock Creek Park, assaulting female joggers at knifepoint. He had attacked again, even as the police and the press concentrated on a congressman romantically linked to the intern.
Finding Chandra explores the bungled police efforts to locate the crime scene and catch a killer, the ambition and hubris of Washington's power elite and press corps, the twisted culture of politics, the dark nature of political scandal, and the agony of parents struggling to comprehend the loss of a child. Above all, it is a quintessential portrait of a cast of outsiders who came to Washington with dreams of something better, only to be forever changed.
Praise For Finding Chandra…
"A remarkably detailed, straight-up exposÉ of bureaucratic incompetence and human folly, set against the alluring backdrop of Washington. It's an impressive feat of reporting and storytelling, full of the kind of plot elements that seem unbelievable and are made all the more engrossing because they're true."
--The New York Times Book Review



"[A] triumph of investigative journalism. Its authors did what the D.C. police and the FBI had not done: They exonerated Condit and identified Guandique as Levy's likely killer. Their reporting was thorough and focused, and they provide readers with detailed notes about where their facts come from."
--San Francisco Chronicle



"An exhaustive and authoritative account."
--Wall Street Journal



"A meticulous study of the case and the media circus surrounding it... Higham and Horwitz's compelling story brings hope that justice may finally come for Levys."
– Publisher's Weekly



"Fine reporting and behind-the-scenes drama; a must for true-crime fans."
– Booklist



"Essential for those interested in true crime mysteries or the world of Washington, DC, politics."
– Library Journal



"A well-reported, well-written chronicle of a botched criminal investigation and its disturbing aftermath."
– Kirkus
Tuesday, May 25, 2010
The summer of 2001 was the summer of Chandra Levy; the 24-year-old Washington intern vanished without a trace -- amid much speculation. Scott Higham and Sari Horwitz reported the case for the Washington Post. In Finding Chandra, they reexamine the murder mystery. More at NPR.org