Taco USA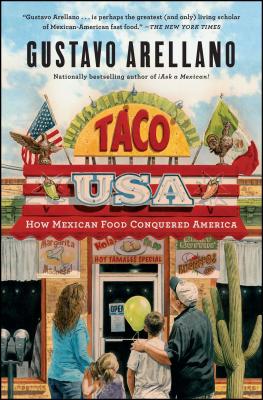 Taco USA
How Mexican Food Conquered America
Scribner Book Company, Paperback, 9781439148624, 310pp.
Publication Date: April 16, 2013
* Individual store prices may vary.
Buy Now
or
Shop Local
Enter your zip code below to purchase from an indie close to you.
Description
Nationally syndicated columnist and bestselling author of ¡Ask a Mexican! Gustavo Arellano presents a tasty trip through the history and culture of Mexican food in this country, uncovering great stories and charting the cuisine's tremendous popularity north of the border. Arellano's fascinating narrative combines history, cultural criticism, food writing, personal anecdotes, and Jesus on a tortilla. In seemingly every decade for over a century, America has tried new culinary trends from south of the border, loved them, and demanded the next big thing. As a result, Mexican food dominates American palates to the tune of billions of dollars in sales per year, from canned refried beans to tortilla wraps and ballpark nachos. It's a little-known history, one that's crept up on this country and left us better for it.
About the Author
Gustavo Arellano's "Ask a Mexican! "column has a circulation of more than two million in thirty-eight markets (and counting). He has received the President's Award from the Los Angeles Press Club, an Impact Award from the National Hispanic Media Coalition, and a 2008 Latino Spirit Award from the California State legislature. Arellano has appeared on the Today show, Nightline, NPR's Talk of the Nation, and The Colbert Report. For more information, visit AskAMexican.net.