As We Speak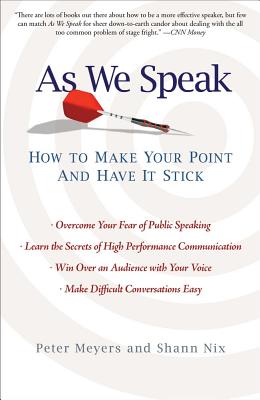 As We Speak
How to Make Your Point and Have It Stick
Atria Books, Paperback, 9781439153086, 275pp.
Publication Date: August 14, 2012
* Individual store prices may vary.
Buy Now
or
Shop Local
Enter your zip code below to purchase from an indie close to you.
Description
A practical and empowering guide to public speaking and becoming a more effective, persuasive communicator in all areas of life.
The world is full of brilliant people whose ideas are never heard. This book is designed to make sure that you re not one of them.
Even for the most self-confident among us, public speaking can be a nerve-racking ordeal. Whether you are speaking to a large audience, within a group, or in a oneon- one conversation, the way in which you communicate ideas, as much as the ideas themselves, can determine success or failure.
In this invaluable guide from two of today's most sought-after communication experts, you ll learn to master three core principles that you can apply in a wide variety of situations:
Content: Construct a clear and lucid architecture of ideas that will lead your listener through a memorable emotional experience.
Delivery: Use your voice and body in ways that engage your audience and naturally support your message.
State: Bring yourself into peak performance condition. The way you feel when you perform is the most frequently overlooked component of communication.
Accessible, inspiring, and laden with useful tips, "As We Speak "will help you discover your authentic voice and learn to convey your ideas in the most powerful and unforgettable way possible.
About the Author
Peter Meyers designs, speaks, and writes about digital books. After co-founding pioneering multimedia textbook publisher Digital Learning Interactive, he launched a successful career as a freelance journalist, writing about the strange and wonderful effects of computers on mainstream culture for many publications, including the New York Times, the Wall Street Journal, Wired, Salon, and the Village Voice. During a subsequent five-year tour of duty at O Reilly Media he worked in the Missing Manual group, serving as managing editor and associate publisher. His most recent writing projects include Best iPad Apps (O Reilly Media, 2010) and Breaking the Page: Transforming Books and the Reading Experience. He blogs at www.newkindofbook.com and you can follow him on Twitter @petermeyers. Peter's undergraduate degree is from Harvard, where he studied American history and literature, and he has an MFA in fiction from the Iowa Writers Workshop.