The Last Gunfight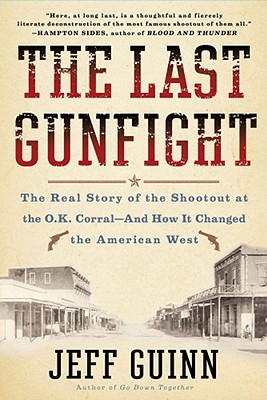 The Last Gunfight
The Real Story of the Shootout at the O.K. Corral-And How It Changed the American West
Simon & Schuster, Hardcover, 9781439154243, 416pp.
Publication Date: May 17, 2011
* Individual store prices may vary.
Buy at Local Store
Enter your zip code below to purchase from an indie close to you.
or
Not Currently Available for Direct Purchase
Description
On the afternoon of October 26, 1881, in a vacant lot in Tombstone, Arizona, a confrontation between eight armed men erupted in a deadly shootout. The gunfight at the O.K. Corral shaped how future generations came to view the old West. Wyatt Earp, Doc Holliday, and the Clantons became the stuff of legends, symbolic of a West populated by good guys in white hats and villains in black ones, and where law enforcement largely consisted of sheriffs and outlaws facing off at high noon on the main streets of dusty, desolate towns where every man packed at least one six-shooter on his hips. It's colorful stuff—but the truth is even better.
As The Last Gunfight makes clear, the real story of the O.K. Corral and the West is far different from what we've been led to believe by countless TV Westerns and Hollywood films. Drawing on new material from private collections—including diaries, letters, and Wyatt Earp's own hand-drawn sketch of the shootout's conclusion—as well as documentary research in Tombstone and Arizona archives and dozens of interviews, award-winning author Jeff Guinn gives us a startlingly different and far more fascinating picture of what the West was like, who the Earps and Doc Holliday and their cowboy adversaries really were, what actually happened on that cold day in Tombstone, and why.
The gunfight did not actually occur in the O.K. Corral, and it was in no way a defining battle between frontier forces of good and evil. Combining newfound facts with cinematic storytelling, Guinn depicts an accidental if inevitable clash between competing social, political, and economic forces representing the old West of ruggedly independent ranchers and cowboys and the emerging new West of wealthy mining interests and well-heeled town folk.
With its masterful storytelling, fresh research, and memorable characters—the Earps, cattle rustlers, frontier prostitutes, renegade Apaches, and Tombstone itself, a beguiling hybrid of elegance and decadence—The Last Gunfight is both hugely entertaining and illuminating, and the definitive work on the Wild West's greatest shootout.
About the Author
Jeff Guinn is the bestselling author of several books of fiction and nonfiction, including The Last Gunfight and Go Down Together, which was a finalist for an Edgar Award in 2010. Formerly an award-winning investigative journalist and now a frequent guest on national radio and TV programs, he lives in Fort Worth, Texas.