How to Raise a Drug-Free Kid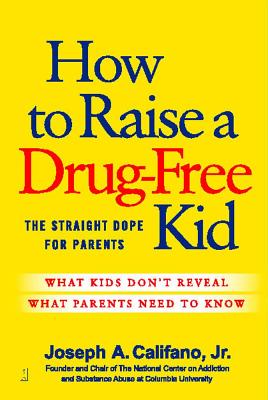 How to Raise a Drug-Free Kid
The Straight Dope for Parents
Touchstone Books, Paperback, 9781439156315, 320pp.
Publication Date: August 11, 2009
* Individual store prices may vary.
Buy at Local Store
Enter your zip code below to purchase from an indie close to you.
or
Not Currently Available for Direct Purchase
Description
Nearly every child will be offered drugs or alcohol before graduating high school. The good news is that a child who gets to age twenty-one without smoking, using illegal drugs, or abusing alcohol is virtually certain never to do so...and kids who learn about drugs from their parents are much likelier to resist these temptations.
Based on nearly two decades of research at The National Center on Addiction and Substance Abuse at Columbia University, "How to Raise a Drug-Free Kid: The Straight Dope for Parents" offers advice and information on how to prepare your child for the crucial decision-making moments and on many of the most daunting parenting topics, including:
When and how to talk to your kids about drugs and alcohol
How to respond when your kid asks, "Did you do drugs?"
How to know when your child is most at risk
How to prepare your teen for the freedoms and perils of college.
About the Author
Joseph Anthony Califano, Jr. (born May 15, 1931) is the Founding Chair and President of The National Center on Addiction and Substance Abuse at Columbia University. Califano graduated from College of the Holy Cross in 1952 and Harvard Law School in 1955. After holding various legal positions in the United States Department of Defense, he eventually becoming the general counsel of the United States Army, and was awarded the Distinguished Civilian Service Medal.
In 1964, Califano became a special assistant to the United States Secretary of Defense, and deputy secretary. He was appointed to several committees by President of the United States Lyndon Johnson. In July 1965, he became a special assistant to the president, and served as President Johnson's senior domestic policy aide for the remainder of Johnson's term.
In January 1977, Califano was appointed Secretary of Health, Education, and Welfare by newly elected president Jimmy Carter. His major initiatives included prevention programs to support childhood immunizations and against smoking. The department began efforts to collect defaulted student loans. From 1983 until 1992, Califano was senior partner and head of the Washington office of the law firm of Dewey Ballantine. Since 1992, he has been the chairman of the National Center of Addiction and Substance Abuse at Columbia University (CASA), and has written several books.
Praise For How to Raise a Drug-Free Kid…
"Teens and college students are surrounded by drugs and alcohol, in school, at play, even at home. As a physician specializing in adolescents, I know that since they have to deal with this problem, then as a parent so do you. How to Raise a Drug-Free Kid provides the practical advice and information that every parent needs. If you read only one book, this is the one." -- Ralph I. Lopez, MD, Clinical Professor of Pediatrics, Weill Medical College of Cornell and author of The Teen Health Book: A Parent's Guide to Adolescent Health and Well-Being



"A parent's tool box for today. An invaluable primer to help you help your children navigate the difficult and contradictory messages about drugs and alcohol." -- Jamie Lee Curtis, mother, author of children's books and actress



"A must read for all parents to learn new ways to help their children grow up safe and drug free. Through its 9 facets of parental engagement, Joseph Califano's How to Raise a Drug-Free Kid gives parents proven, practical ways to constructively engage in the lives of their children and to use their "Parent Power" in order to be their child's strongest positive influence." -- Chuck Saylors, President, National PTA



"Numerous studies show both the influence parents can have on their teens' behavior and the problems they have in exerting it. This wise, practical and well written book gives them the tools they need. I enthusiastically recommend it to parents." -- Herbert D. Kleber, MD, Professor of Psychiatry and Director, Division on Substance Abuse, Columbia University